Assault Hand Paddle Review
https://www.bassgrab.com/wp-content/uploads/G0081256-e1490622699592-620x350.jpg
620
350
BassGrab
BassGrab
https://www.bassgrab.com/wp-content/uploads/G0081256-e1490622699592-620x350.jpg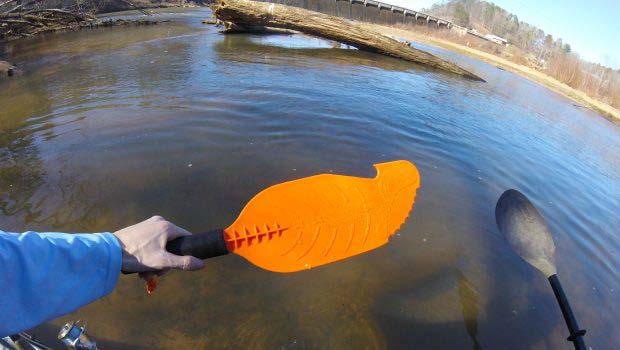 Assault Hand Paddle Review
Product: Assault Kayak Fishing Hand Paddle
Manufacturer: Backwater Paddle Company
Price: Check the current price on Amazon
Introduction
It's always fun working with smaller companies who have come up with a great fishing tool, and Backwater Paddles has done exactly that. The Assault Hand Paddle concept is simple – a paddle you can use with one hand that's as sturdy as a rock. The team at Backwater Paddle Company definitely kept kayak anglers in mind when designing this hand paddle.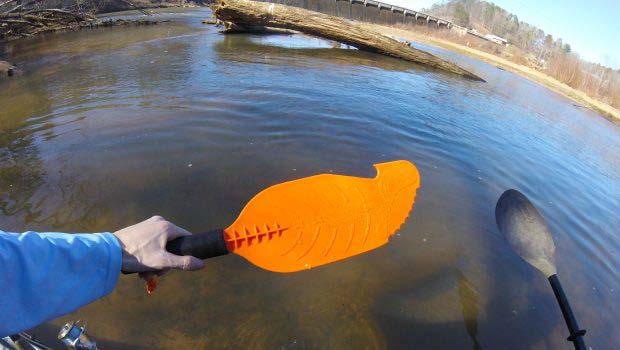 Features List
22 inches long
15 inch blade length
6 inches wide
12 ounces
Wrist Strap
Foam Handle
Carved out hook in the blade – used for grabbing fishing line, tree branches, etc.
Blade teeth for added friction when pushing off rocks
Testing the Assault Hand Paddle
Backwater Paddle Company advertises that you can use the paddle to maneuver your kayak while fighting a fish, and they're exactly right. While holding your rod in one hand, you can use the other to paddle yourself around an obstacle or position yourself for landing a fish. Using the wrist strap makes it easy to go from paddling to reeling and back to paddling to make sure you're keeping the line tight.
Not only is the paddle a useful tool when fighting a fish, it's also a great way to get yourself out of various trouble you could find yourself in. How many times have you accidentally gone too shallow and gotten stuck? Don't risk breaking your actual paddle, instead grab the Assault Hand Paddle. It comes with teeth on one end to help grip wet rocks and you'll be able to push off and get back on the water. At over 1 cm thick, this paddle is as sturdy as they come.
Backwater Paddles will also replace your Assault Hand Paddle free of charge if you break it. They'll just want to hear the crazy story of how you broke their paddle! To test its durability we smacked it on rocks, pushed off the ground with most of our weight on it, and threw it off a roof just for fun. It stood up to the test.
Finally, we had to make sure it was water friendly. What good is it to be sturdy if it's heavy and probably sinks? Well, that would be wrong on both accounts. The hand paddle is lightweight and it floats. The water won't be able to claim this tool that we've used our hard earned money on. Nope, this paddle is around for the long haul.
Pros
Sturdy – We haven't seen a sturdier hand paddle out there. This paddle will last you a long time, and if you ever break it they'll send you another for free.
Floats – You won't lose this paddle, especially if you go with the orange color. It floats and sticks out on the water.
Efficient – Controlling your kayak with one hand is the dream.
Price – $29.95 is a great deal for the paddle, especially with the 100% guarantee replacement warranty.

Cons
Storage – The only downside we found was there isn't really a great place to store an extra paddle with easy access on our kayaks with our full gear load. That being said, this paddle is useful enough that we'll come up with a spot for it.
Final Thoughts
The Assault Hand Paddle will be one of the most useful tools you'll put in your kayak. It will definitely help get you out of tight places, and you'll be able to stealthily move your kayak with one hand when you're stalking fish and paddling. A kayak angler should especially consider adding this to their arsenal if they ever plan on fishing in current or wind. It is a game changer.
Wesley Anderson
Wesley lives in Georgia and has spent the last 30 years hiking, camping, and fishing. Wesley has been in the fishing online industry since 2011 and loves sharing his knowledge of fishing products and fishing techniques. In order to give readers hands on knowledge, we've put hundreds on products to the test.
All stories by: Wesley Anderson