Scotty Rod Mounts
https://www.bassgrab.com/wp-content/uploads/Scotty-Rod-Mounts-e1491226543475-620x350.jpg
620
350
BassGrab
BassGrab
https://www.bassgrab.com/wp-content/uploads/Scotty-Rod-Mounts-e1491226543475-620x350.jpg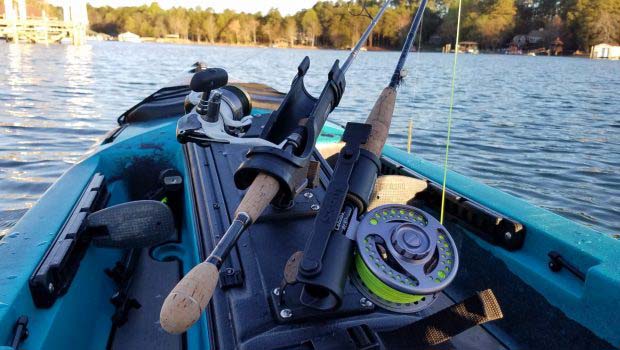 Scotty Rod Mounts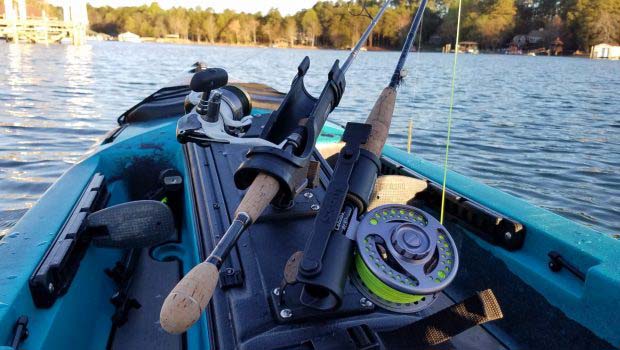 I have had the opportunity to work with quite a wide selection of kayak rod holders and mounting systems while kayak fishing and reviewing gear. The available mounting systems on the market today for kayaks are excellent and there are a wide variety to choose from due the increasing popularity of kayak fishing. A few things I look for are rigidity, adjustability, and accessibility when it comes to a holder for fishing rods. Scotty mounts consistently deliver on all three of these, and they have excellent flush mount and raised base blocks that keep the rod holders very secure. The last thing you want is to watch your rod get pulled out of a flimsy mount or get stuck when a fish starts peeling off drag. Scotty sent several of their rod holders, including their new transducer mount, for us to test, and I had a great time out on the water putting them through their paces!
Power Lock Rod Holder

The Power Lock rod holder is a one of the larger rod holders we've worked with but it is so dang solid. I never experienced any flexing when using it and the mount never even remotely felt like it would break free or move at all. I have used this when sitting and soaking bait for some bull reds and it works great! The key when using any mounted rod holder with bait is to set your drag light enough so it doesn't yank your kayak over or break anything when you hook a fish. However, this Power Lock is durable enough that you can get away with more drag than usual and not be concerned with your rod breaking free. This is also in part due to the 'power lock' ring at the top, which twists and securely locks your rod in place. It would be impossible for it to get yanked out; the rod would have to break first. I didn't use the power lock feature often because it is an extra step in getting the rod out of the mount, but it is nice that it's there for rough water or when chasing strong fish. The Power Lock rod holder is as solid as anything you could ask for and I high recommend it for inshore or offshore fishing.
Pros: Holds both spinning and casting rods securely – Very durable nylon fiber construction – Does not flex – Will not lose your fishing rod
Cons: Angle of adjustment is too large between each locking point. I bought a set of $5 Scotty slip discs to compensate for this so you can set any angle you want on the rod holder. I wish these were included though.
Price: Check the current price on Amazon

Fly Rod Holder

Scotty makes the best fly rod mount out there. It is compact, easy to access, and holds the rod securely. If you're fly fishing from a kayak this is almost a necessity as any normal rod holder or flush mount will not work with your expensive fly rod due to the short rod butt. I really enjoyed using this to hold my rod when switching between spinning and fly rods while fishing.
Pros: Fits a fly rod perfectly – Easy to mount and remove – Secure – Great design
Cons: None
Price: Check the current price on Amazon

Kayak Transducer Arm Mount

I was able to test the Scotty transducer arm mount on a Jackson Kraken kayak, and it fits perfectly in the existing gear trac. I was very impressed with the transducer arm mount. It is an excellent solution for a fish finder transducer if you don't want to drill into your kayak or setup a through hull mount which can reduce the sensitivity and won't provide water temperature. I plan on using this exclusively in the future for my Dragonfly 5 fish finder transducer. The mount does run in the water so it creates some drag but it isn't noticeable. It's also adjustable to any angle and the arm itself can extend from 11.5" to 18". I've been looking for something like this for a while so I don't have to drill any holes or use a scupper for a transducer, and this sure fits the bill.
Pros: No drilling required – Removable – Adjustable angle and depth – Provide a good depth reading and water temps
Cons: Creates some additional drag
Price: Check the current price on Amazon

Overall
There are a lot of offerings from different companies when it comes to choosing the best rod mounts and rigging system for your kayak. In general they are not compatible with each other so you have to pick one and stick with it. I've used many at this point and Scotty has the most solid bases and mounts out of all of them and you can consistently find these quality mounts for around half of the suggested MSRPs listed through Amazon or your local kayak shop. I wouldn't hesitate to commit to installing Scotty mounts on your kayak. They have some great products and aftermarket parts so you can rig the ultimate fishing kayak.
Sent from Scotty
Heath Anderson
Heath lives in North Carolina and has been an avid fisherman and all around outdoorsman for the past three decades. In addition to enjoying the outdoors, Heath has been active in the online fishing industry since 2010, teaching and sharing reviews of fishing products on BassGrab.com to help anglers catch more and look good while doing it.
All stories by: Heath Anderson