Toadfish Non-Tipping Can Cooler Review
https://www.bassgrab.com/wp-content/uploads/toadfish_3-1200x900.jpg
1080
810
BassGrab
BassGrab
https://www.bassgrab.com/wp-content/uploads/toadfish_3-1200x900.jpg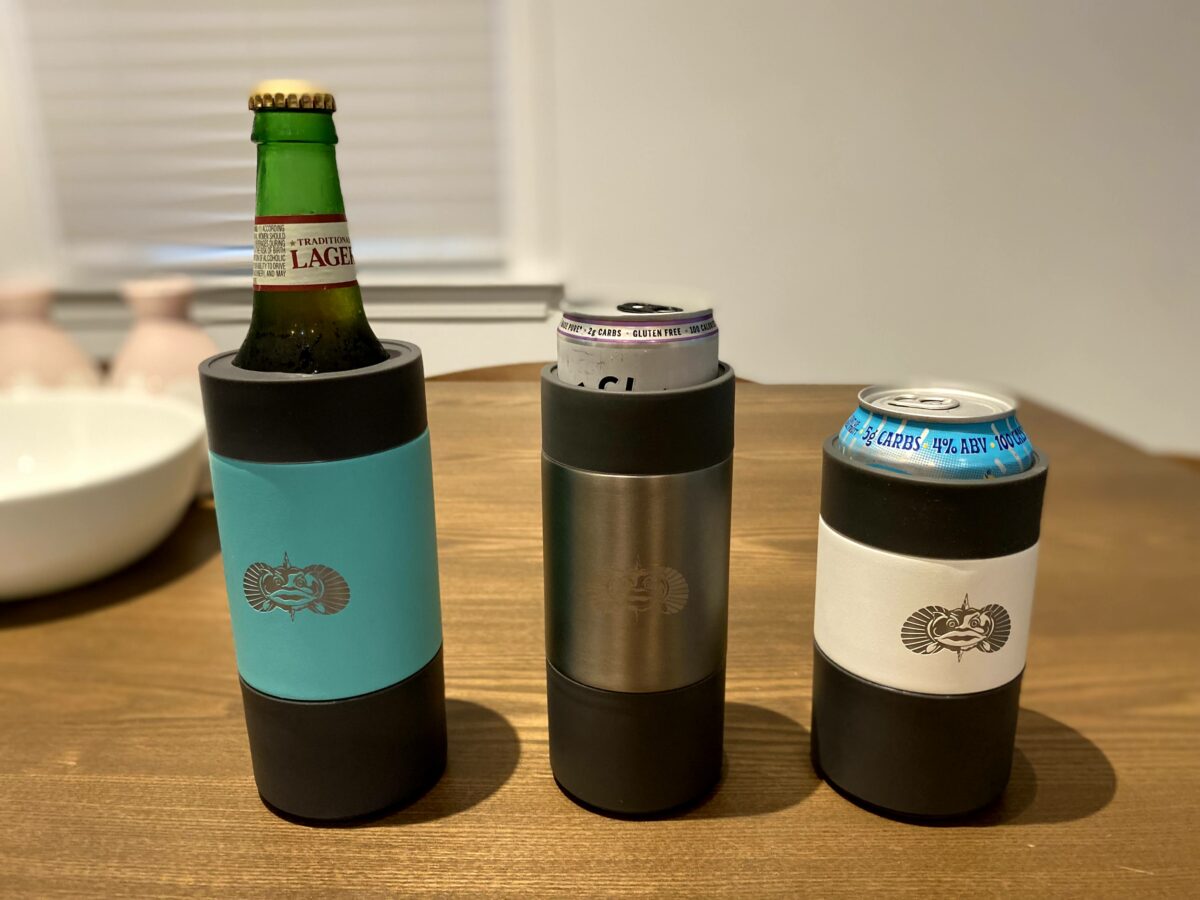 Toadfish Non-Tipping Can Cooler Review
Our latest Toadfish can cooler review goes into detail about what you can expect from this one-of-a-kind drink holder.
What comes in the box?
We chose the three-pack with the Non-Tipping Regular Can Cooler, Non-Tipping 16oz Tall Can Cooler and Non-Tipping Slim Can Cooler. 
SMARTGRIP TECHNOLOGY

– Patented SmartGrip technology makes it hard to tip but easy to lift.

DOUBLE WALL VACUUM INSULATION

– Keeps your drinks cold until the last sip.

STAINLESS STEEL

–  Made with high-grade stainless steel, making them puncture & rust-resistant. 

RUBBER LOCKING GASKET

– Removable rubber gasket to securely lock in your can.
There is an instruction manual to show you how to work it in the box. Take a look at it to see how to use it. Basically, to pick it up you lift it straight up and down. If you lift it at any other angle the can will hold tight on a smooth surface.
First Impressions Of the Toadfish Can Cooler
I first saw the Toadfish Can Cooler with my brother at a bait shop in Charleston, SC. They were awesome and we played with it all night trying to knock it over and trying to pick it straight up.
Toadfish has designed a koozie that keeps it as cold as a Yeti, but also keeps your can upright when it is accidentally bumped or hit. It actually is rated to rest at angles up to 25 degrees indefinitely. I even put it up on our fridge – it fell eventually. But this thing is incredible. 
Because it's currently one of a kind, it is a really fun gift to give. Everyone who I have shown it to is immediately interested and tries to knock it over and then pick it up. If you're out of ideas for the holidays this year, look no farther than any of these koozies.
Toadfish Can Cooler Uses and Testing
First off, if we're here you're probably looking to see if you can use this on your boat or your kayak. I'll be quick – yes you can. Toadfish made this with anglers in mind and it sticks to the smooth surfaces on your boat. 
Second, we wanted to try something different no one else had tried yet. Obviously, the point of the non-tipping can cooler is to keep it from being knocked over from accidental bumps. However, we wanted to know how strong it actually was. We put a digital scale on top of the can cooler and pulled until the can tipped. It took 8.8lbs of pressure to tip this can.  While that may not sound like a lot, when we put it on top of the yeti can to pull it over, it didn't register any resistance.
But even outside of your boat, I use this daily on my desk at work and I feel a lot safer about not tipping my can over onto my laptop and papers. This legitimately could have saved my last laptop.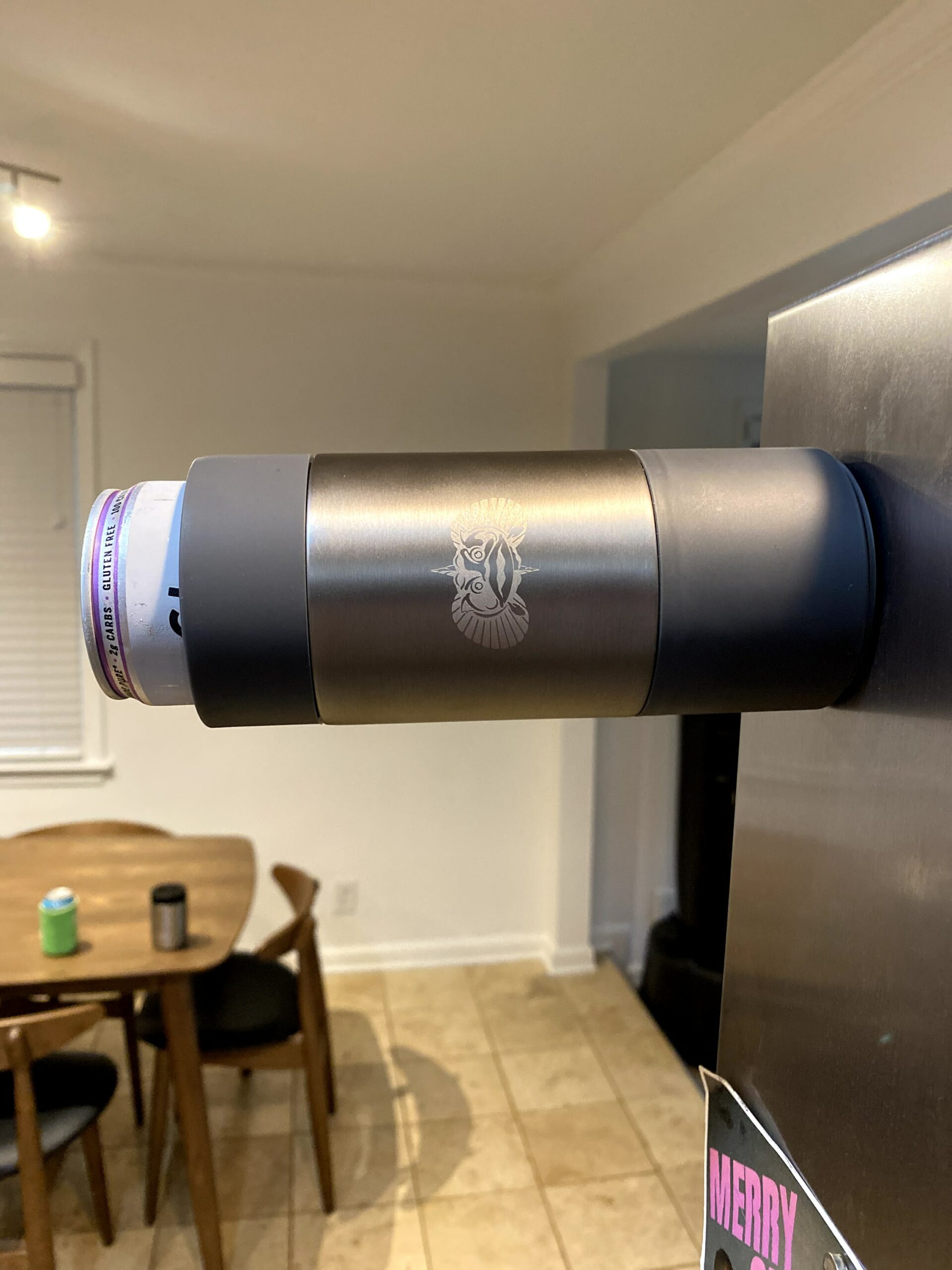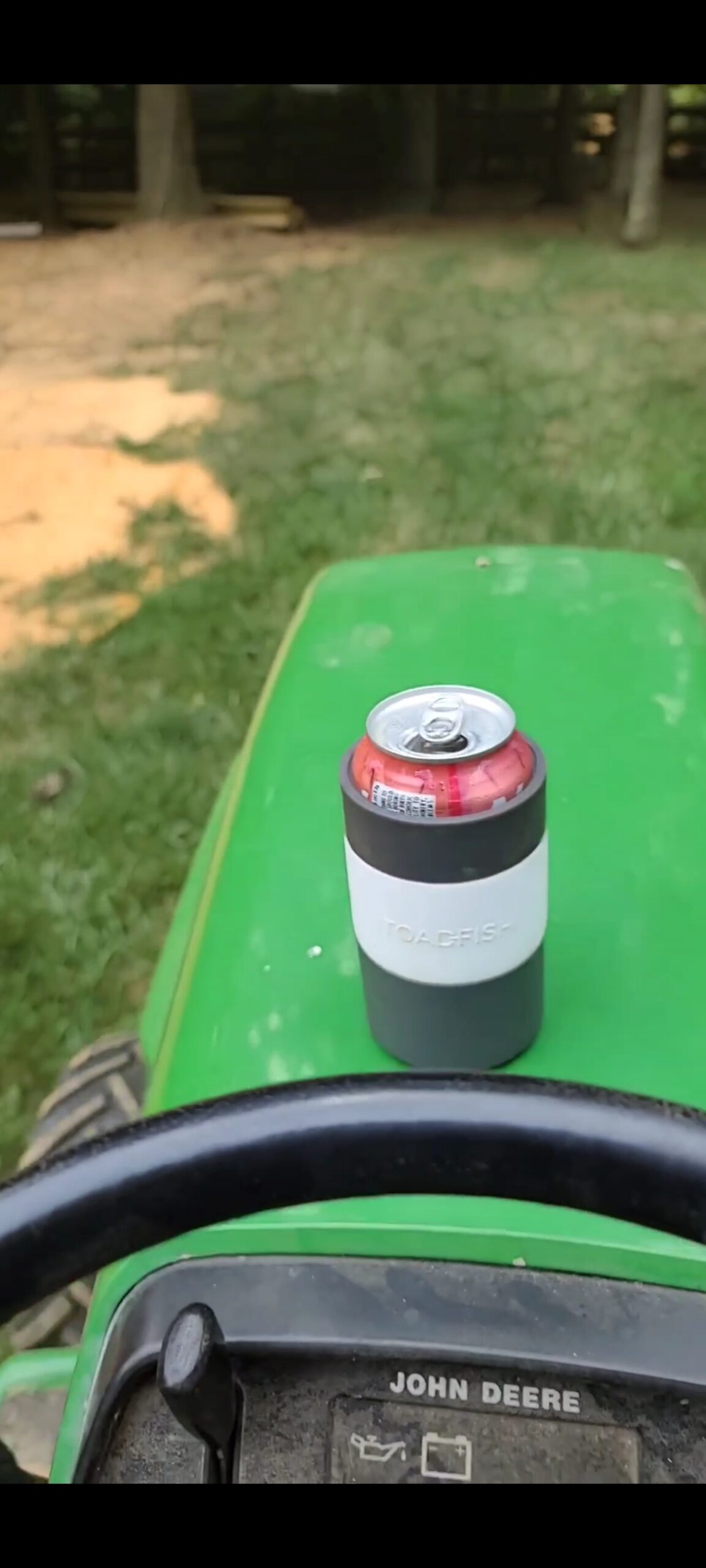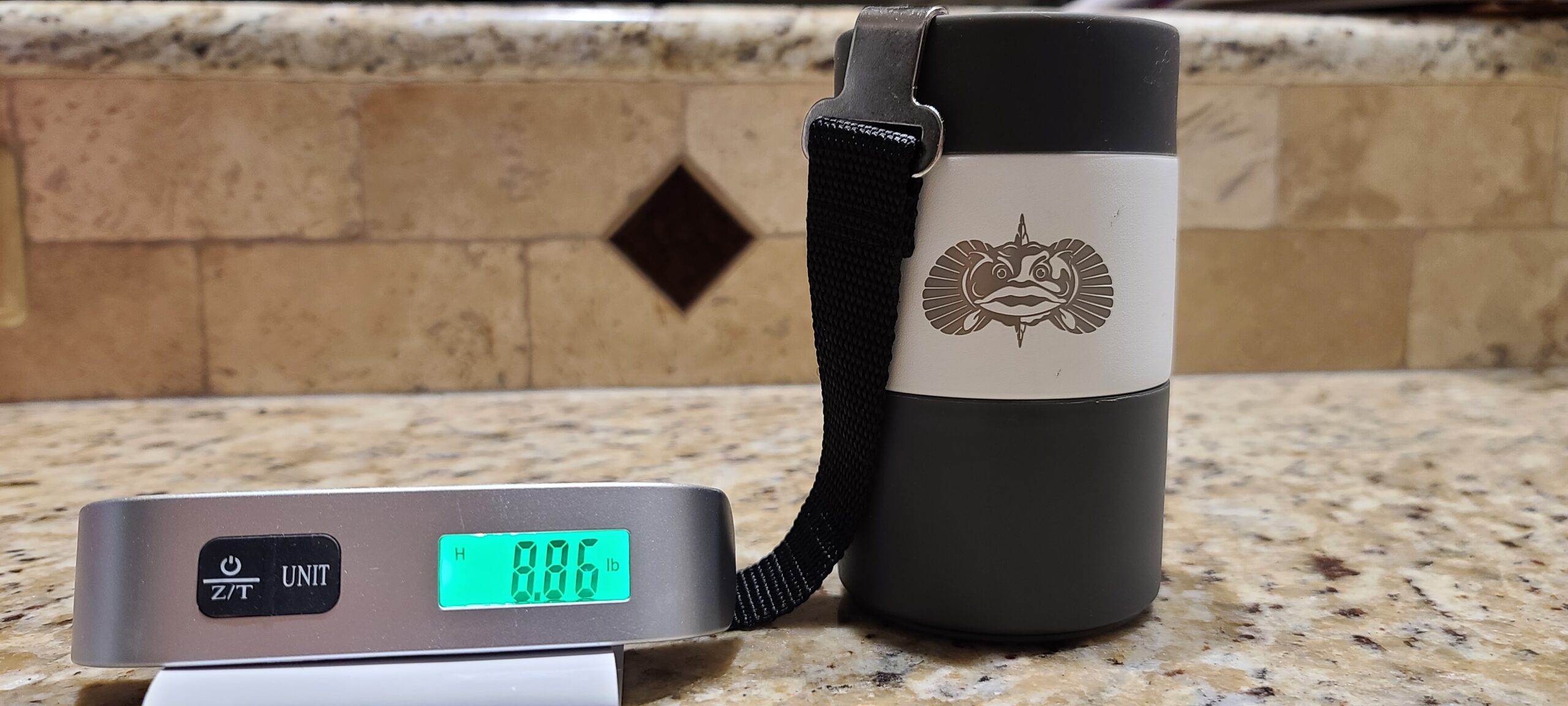 Toadfish Can Cooler Vs Yeti Vs Normal Koozie
Toadfish Vs Yeti
YETI Size

Toadfish Size

9.5" Diameter – 5.25" Height

Weight – I didn't weigh them because I actually don't have a scale that measures things that precisely, but you can feel the Toadfish Regular Can Cooler is lighter than the Yeti.
Yeti seems to be the standard when it comes to hard shell insulated can coolers. Their main draw being it keeps beers cold the longest. That may still be true, but we tested both the Yeti and Toadfish insulation by leaving beers out in the sun in Yeti and Toadfish for an hour and there was no noticeable difference. Toadfish did a great job insulating their can.
Not only that, the Toadfish is actually $1 cheaper (at the time this article was written) than the Yeti.
Toadfish Vs A Normal Koozie
Normal koozies were hard to compare it to because it's almost a different product. The only positive we like about normal koozies are you can put them in your pocket and not feel them if you aren't using it. But you're here to see what's cool about the Toadfish, and we can tell you the one big difference – when we hit our beer in a normal koozie, it just fell over.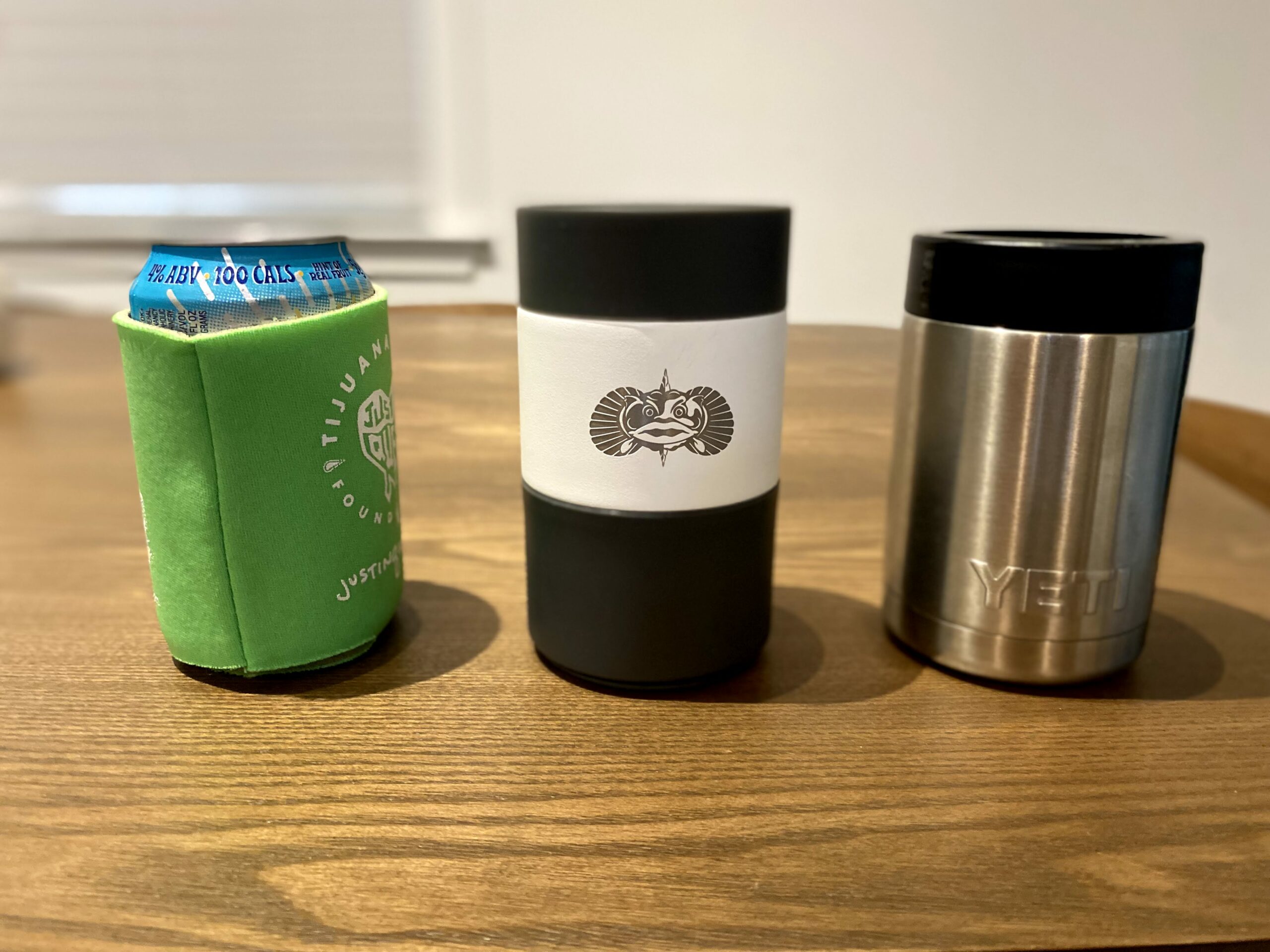 Overall Impressions
I would recommend any of the Toadfish Can Coolers for anyone who likes to keep their drink cold and upright. It goes on a golf cart, lawnmower, hood of your car, kayak, boat, counter, desk, fridge, and basically anywhere else.
I'll end with this story. I recently went on a kayak fishing trip and landed a flounder. If you know anything about flounder you know most of the time they don't even realize they're hooked until they're pretty close to the boat, so they often still have energy when you land them.
This particular flounder flopped around after I got him into the kayak and he flipped and flopped and knocked over a brand new beer that was just sitting in my kayak. I would not make that mistake again.
Wesley Anderson
Wesley lives in Georgia and has spent the last 30 years hiking, camping, and fishing. Wesley has been in the fishing online industry since 2011 and loves sharing his knowledge of fishing products and fishing techniques. In order to give readers hands on knowledge, we've put hundreds on products to the test.
All stories by: Wesley Anderson