ICECO Portable Electric Cooler Review
https://www.bassgrab.com/wp-content/uploads/2022-04-14-16.20.41-1200x540.jpg
1080
486
BassGrab
BassGrab
https://www.bassgrab.com/wp-content/uploads/2022-04-14-16.20.41-1200x540.jpg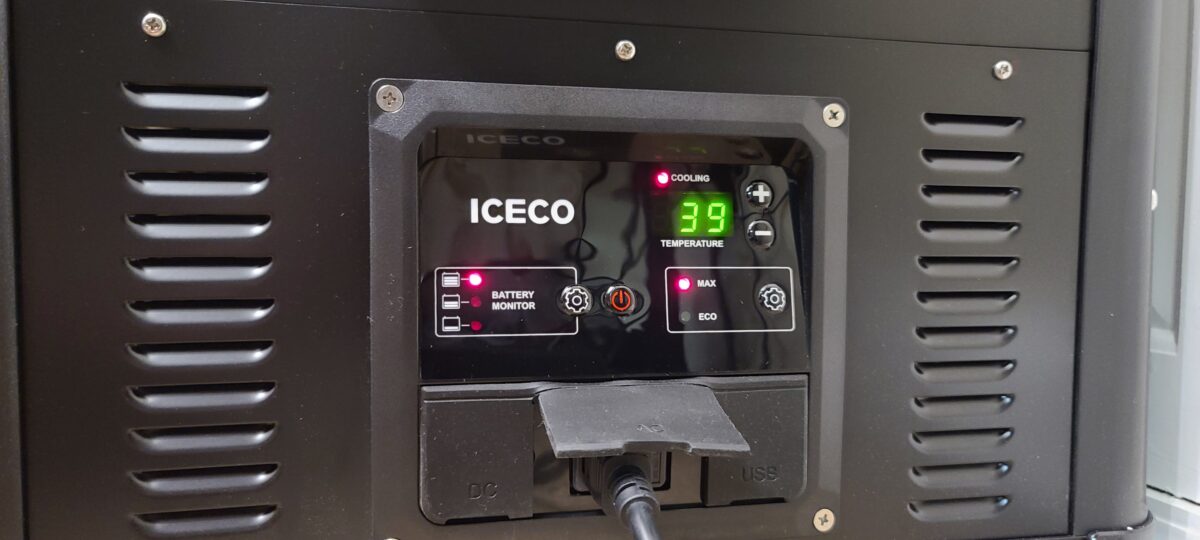 ICECO Portable Electric Cooler Review
Fishing, camping, and hunting are all activities that take you deep into the wilderness and inevitably require you to have a cooler to keep your food or harvest cold and fresh.
The cooler market has exploded in the past handful of years and there is an overabundance of options to choose from which is great, but what if you're going off grid on a trip for a week or more and don't have access to ice? This is where ICECO takes the stage with their portable electric coolers. Electric coolers are truly a niche category, but are one of the coolest products out there. They are unique in that you can hook up a cooler in the back of your car and have the ability to regulate the temperature to the exact degree, going from fridge to freezer within an hour without having to deal with ice!
Sent from ICECO – https://icecofreezer.com/
Electric Cooler Quicklinks
ICECO Electric Cooler Features
Power

The ICECO VLPro60S can use either of the two power options included with it; AC or DC power cords.
– The AC power cord is just a standard three prong power cord that can plug directly into a 110Vac wall outlet.
– The DC power cord is for a car adapter and can connect to a car or a portable power station using 12V or 24V.

The unit can run in either Max or Eco modes depending on your preference and has an integrated battery saver to shut off the cooler to preserve the battery life of whatever it is connected to if the voltage drops too low. See additional power and battery information below. The cooler also has two USB plugs you can to draw power from. All of the power connections (AC, DC, USB) are covered with rubber gasket flaps to prevent water and dirt intrusion.
Construction

When I unboxed the VLPro60 electric cooler it is very clear from looking at it that the cooler is very well built. ICECO clearly took a lot into consideration with this and added a lot of small details that truly make this a high quality electric cooler. A few of these include the corner protectors, metal sides, hex studded screws, multi sided opening lid, strong handles, and lots of extra features.

One of the coolest parts of the construction of the cooler is the lid. It can open from either side, either end, or come off completely which gives you unparalleled access when trying to get into the cooler in small spaces. One thing that threw me off initially was the integrated spring assisted handle latches to open the lid. I couldn't open the cooler at first, but quickly figured out that you have to push in and down while pulling up to unlatch the lid. It sounds complex but it is super easy once you get used to it and actually quite helpful that the lid won't open on it's own or when you happen to accidentally lift up on the lip.

The interior siding of the electric cooler is very similar to a freezer chest. It is made of aluminum and clearly is designed to provide maximum cooling efficiency, however I do wonder how much abuse it can take before it dents, particularly if this is in the back of my jeep with food and drinks banging around off road.

The exterior siding is metal with a matte black finish that looks very nice. It feels strong by pushing on it, however I'm sure a good bang could dent it and you can't throw it around like you would a plastic rotomolded cooler. The cooler also has abs plastic caps to protect all the corners.
Cooling

One of the most important aspects of a cooler is of course how well it cools and stays cold. So of course we had to test how quickly does the ICECO VLPro60S electric cooler go from room temperature to a preset temperature so you're ready to go.

I conducted two tests to get the cooler down to operating temps.

Test 1: How quickly can the ICECO VL series go from room temp to a fridge temp?
I ran this test with the electric cooler indoors starting an an ambient temperature of 78℉. My experience was that it was able to cool down to 36℉ in 30 minutes exactly in Max mode. That is actually incredible performance and I'm suitably impressed!

Test 2: How quickly can the ICECO VL series go from room temp to a freezer temp?
I ran this test with the electric cooler indoors starting at an ambient temperature of 77℉. The cooler was able to drop all the way down to 0℉ in only 2 hour and 3 minutes, which is once again a very good cooldown time to get all the way to zero.


Of course this is all impacted by ambient temperature, cooler capacity, sun/shade, etc. However despite all that this is quite impressive for a 60L electric cooler and really shows that the company is using quality parts in their electric coolers! Over the course of a week of having the cooler set to a temp of 36℉ it would swing between 34℉ and up to 39℉ which is well within the range of a normal fluctuation. I actually use this electric cooler full time in my office when I'm not camping or fishing, and it is perfect and I get a lot of compliments on it.
Design

The design of this cooler is actually very refined and sleek. It bridges the gap between durable and stylish and is a step above most of the other electric cooler offerings on the market. The control panel is located on the side of the cooler and offers battery protection shutoff, temperature control, and cooling power. One feature I really liked was the desirable aesthetics of the black colors and screw studded edges. It really feels like this is a cooler that can do it all and is designed to withstand abuse.

The cooler is also designed with vents in the metal siding designed to dissipate the heat being removed from the electric cooler. The vents seem pretty sturdy but do represent an entry point for water or moisture that would cause damage to the compressor. One additional reason that this is best suited for use inside a vehicle or in a protected area. I wouldn't plan on using the ICECO electric cooler on a beach or even in an open field unless it stays in the car. Protect your investment to keep it functioning flawlessly.

Best overall design feature is the built in automatic cooler light. It comes on when you open the lid and is bright and very helpful when trying to find food and drinks at night.
Fishing Trip with ICECO Electric Cooler
The ICECO VLPro60S electric cooler served as the base of operations for our kayak fishing trip. It stayed in my Jeep XJ the whole time and was plugged in to provide a safe haven for drinks and our inshore fish fillets of flounder, trout, and redfish. It worked great set in the back of the Jeep and was readily accessible. For future trips one thing I thought that could be helpful would be the vehicle mounted slide tray. Being able to slide it out and not have to lean into the car would have been great. From working with the cooler and reading the ICECO manual I do think that the VL series is best used as a mounted vehicle electric cooler whether that vehicle be a truck, jeep, boat, or camper. The cooler itself is just a bit on the heavy side to move everywhere and being that it needs to be plugged into a power source and not really waterproof, I see it truly living in a protected vehicle environment. However this does not in any way take away from the usefulness of this product and I truly enjoyed having it. Being able to freeze your fresh catch within an hour in the middle of nowhere is awesome!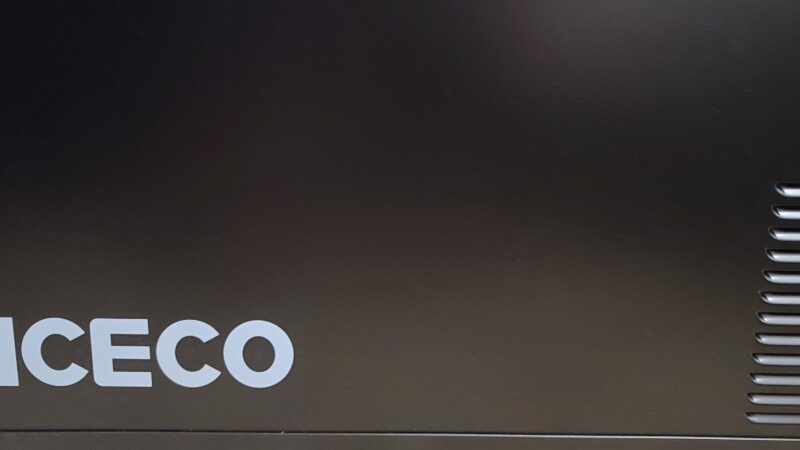 Something I may consider for future trips is getting a portable power center battery to be able to power the cooler for a longer period of time without running my vehicle. A power center with 100 amp hours is the power rating I would recommend purchasing. If you want to determine how long your battery will last it comes down to some fairly simple math that involves current draw and amp hours. 
You will need the following two specs:
Current draw in amps per hour from your electric cooler
You also need to know how many amp hours your 12v battery is rated for
Once you have these numbers do the math below
Battery Amp Hours
————————————————       =    hours of run time
Cooler Amp Draw per Hour
Ex: ICECO VLPro60S provides information stating that to maintain a temp of 0°F for 24 hrs the cooler uses .751 kilowatts
1. Convert kilowatts into watts by multiplying by 1000
2. This gives you a draw of 751 watts for 24 hrs
3. Then divide by 24 hours to get the number of watts per hour, which is 31.3 watts per hour
4. You know that your power supply is 12V and you need the amps per hour
5. Use the formula amps = watts / volts and you can divide by 12V to get the amps.
.751 kilowatts                  751 watts                     31.3 watts                     2.6 A
————————    =    ————————   =    ————————  =    ————————  =  2.6 A/hr
24 hours                             24 hours                      1 hour                          1 hour
Based on a power draw of 2.6A/hr you can expect to get a runtime of around 38 hours with a 100Ah battery in an ideal scenario. However, since batteries never run at perfect efficiency I would cut 20% off of that number for real world power hours. If you're off grid this isn't a very long time, but you could supplement power with solar chargers. Also consider that running the electric cooler at a higher temp such as 36℉ will reduce power consumption and the battery will last longer.
ICECO Electric Cooler Pros and Cons
Pros
Great aesthetics and cooler design
You don't need ice to keep it cool
Ready to go in less than 3o mins when you plug it in
Comes with AC and DC power cables, spare corners and handle, and extra drain plug
The built in cooler light is perfect and very nice when you're trying to grab something when it is dark
Auto locking lid with dual sided access great for vehicles or small spaces
Cons
Expensive initial investment
Moisture management is not handled well
Very heavy especially when full of food and drinks
Would like to see a way to implement a soft close lid
Handles could be stronger and use metal connections
Based on online reviews customer and warranty service could be improved
Common Electric Cooler Questions
Is an ICECO electric cooler worth it?
If you are looking to go on a weekend trip and have easy access to ice then a regular cooler is going to work for your needs. If you are taking trips that will span weeks or months and you have access to a car or electricity then you should look into getting an electric cooler. This is a game changer for storing your food and can be very valuable if you're living out of a vehicle or on a boat.

Can I put ice in an electric cooler?
Sealed ice packs can be used in an electric cooler, however you cannot place any unsealed ice or liquids into this electric cooler.
Do I have to plug in an electric cooler?
Yes, it will not stay cold for very long unless it is connected to a power source.

Are ICECO electric coolers loud?
The electric cooler is not loud, but you can hear it if you're sitting next to it when the compressor is running. Consider the noise equal to the sound of a computer fan running.

How much power do ICECO portable electric coolers use?
This will depend on the size of your cooler, ambient temperature, set temperature, and how much it is being used. The average power draw when cooling at 0℉ is 0.751kw/24h. Based on the information provided, you can expect that the ICECO VLPro60S will use about 2.5 amps at 12v each hour to maintain a temperature of 0℉. From real world reviews of people using this at refrigerator temperatures around 38℉ you can expect it to use about 1 amp of power each hour. Keep in mind you can also use ECO mode for more efficient power usage and the ICECO VLPro series include a battery monitor gauge that roughly indicates the amount of power you have left.
Will this drain your car battery?
The ICECO coolers have built in battery protection that you can set to LOW, MED, or HIGH settings depending on how much voltage you want to preserve on the battery connection. However, that being said if I were connecting this to my primary vehicle battery on a trip into the outdoors I would be cautious and would not recommend leaving this connected to your car DC adapter indefinitely without some additional form of battery protection.

Can you hook an electric cooler up to an external battery?
Yes, this is a great idea to power your cooler off grid! Keep in mind to use the DC (car adapter) plug when doing this so you get the most efficiency out of your battery power. Doing this skips the conversion from DC to AC power with the inverter and is much more efficient. Here are some options for the best portable power stations.
Are ICECO portable electric coolers waterproof?
No, the ICECO cooler has electronics that could be damaged if exposed to water. ICECO states that their electric coolers can be used in a light rain but be careful not to put water into the vent and do not place it on the wet ground. It further states that it is not recommended to use in the open air when it is raining or it could damage the refrigerator.
Can I carry an ICECO cooler on my own?
Great question that depends on your electric cooler size and your strength. The standard ICECO VLPro60 weighs 59lbs empty so it may be a stretch to carry fully loaded on your own. I would suggest transporting with a friend and then keeping the electric cooler in place for the most part. Check out the options for vehicle sliding trays.
Is it safe to run this inside your car?
Yes, there are no safety concerns to using a portable electric cooler inside of your vehicle. There is no off gassing or discharge from the equipment as it uses a closed loop cooling system.

What compressor do ICECO portable electric coolers use?
ICECO uses SECOP (Danfoss) compressors in their VL Pro Series electric coolers which is a high quality top tier compressor with a 5 year warranty. The compressor ranges from 0°F~50°F to vary the temperature for food refrigeration or freezing as needed.

Heath Anderson
Heath lives in North Carolina and has been an avid fisherman and all around outdoorsman for the past three decades. In addition to enjoying the outdoors, Heath has been active in the online fishing industry since 2010, teaching and sharing reviews of fishing products on BassGrab.com to help anglers catch more and look good while doing it.
All stories by: Heath Anderson