Costa Salina Frames for Women
https://www.bassgrab.com/wp-content/uploads/costa-salina-women-1200x540.jpg
1080
486
BassGrab
BassGrab
https://www.bassgrab.com/wp-content/uploads/costa-salina-women-1200x540.jpg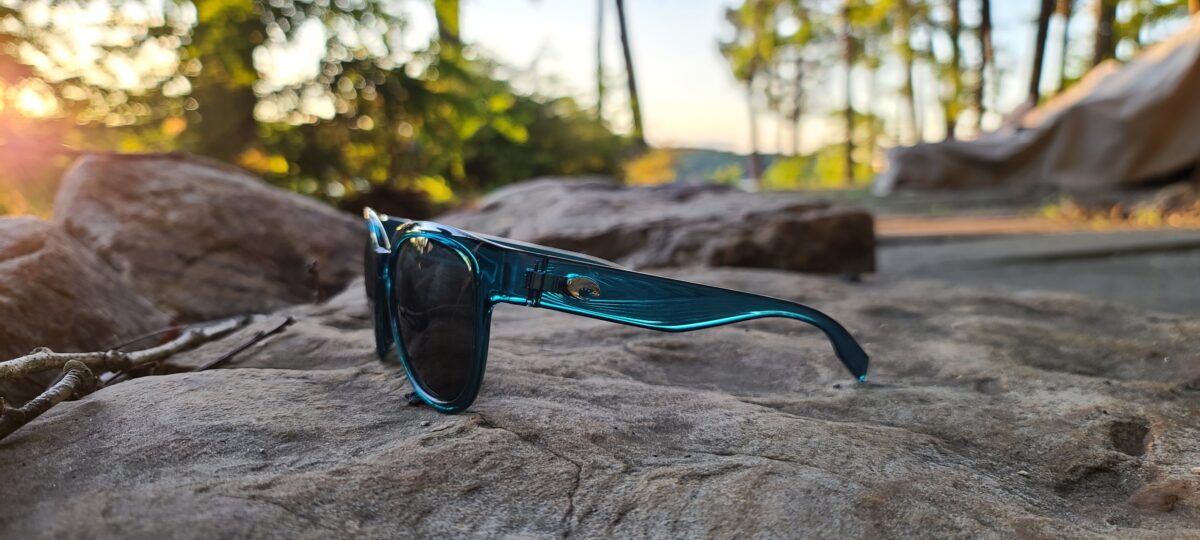 Costa Salina Frames for Women
Sunglasses and fishing go hand in hand but not all companies that specialize in fishing sunglasses make designs purposefully for women who fish. I love fishing and I'm always looking for a pair of sunglasses that are stylish, fit well, and provide eye protection when I'm fishing. Costa sent over one of their newest top women's fishing frames – the Salina. Check out why these are great for female anglers!
Costa Salina Frames
The Salina frames feature a translucent deep teal color that makes these sunglasses a stand out piece, especially when coordinating with an outfit. They're very beautiful and I love the unique look, I've gotten a lot of compliments on them. The nose pads are made out of a different material however. It is a black textured rubber material directly connected to the frames. I have noticed that, similar to many sunglasses, the rubber nose pads can rub off makeup or sunscreen and will need to be cleaned in more detail. They have the same feel as typical adjustable nose pads but do not shift or bend and therefore able to be wiped with more pressure without distorting the shape or risking damage.
Costa Salina Fit for Women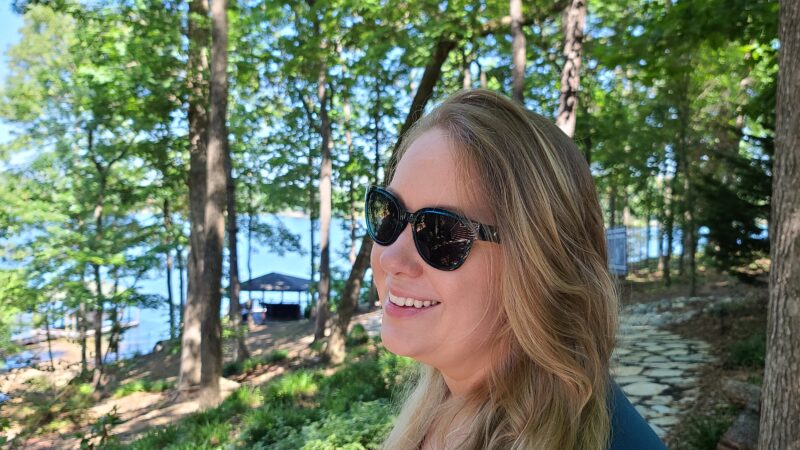 The Salina frames are so comfortable and I like the fact that Costa designed the frames to fit a woman's face. The nose bridge is narrower and fits well while also being stylish. Costa labels these as a XL frame size with a regular fit, but that is somewhat confusing because I have always worn a smaller frame that has the lenses closer together with a narrow nose bridge. It is best to just go to a store and try these on to test the fit, but without a doubt the Salinas are a great pair of sunglasses for fishing.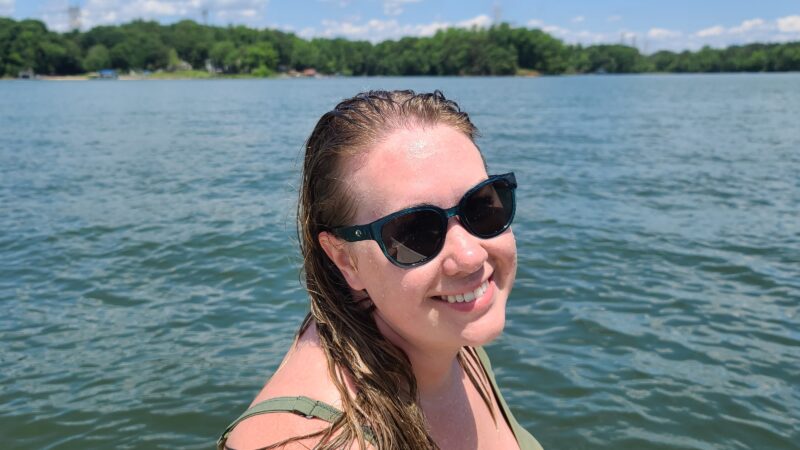 Costa Salina Pros and Cons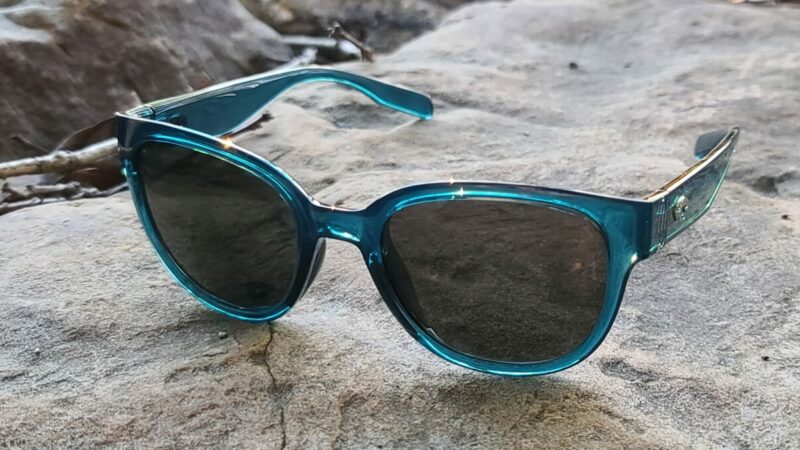 Salina PROS
Stylish design
Dark lenses protect my eyes from UV
Durable nose piece
Fit is perfect for women with a narrower face and small nose bridge
Able to attach sunglass retainers
Unique colors and great for fishing
Salina CONS
Nose bridge not adjustable
Rubber may peel or degrade over time
Costa Glass Lenses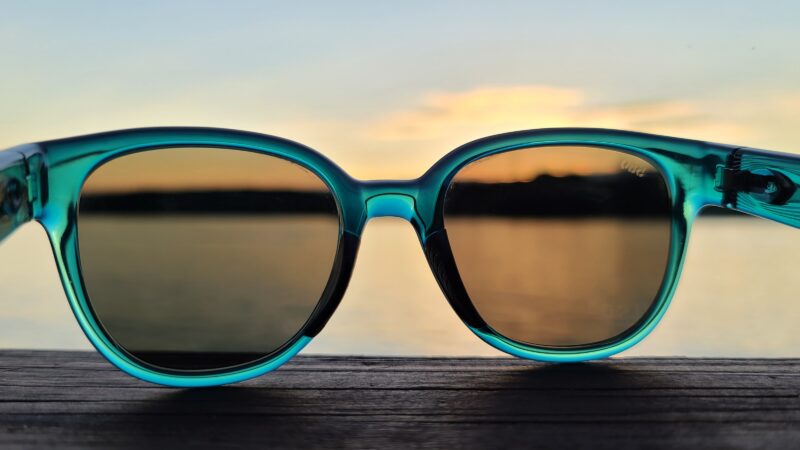 Eye health is so important to me, which is why I am always looking for sunglasses that offer polarized 100% UV protection. Costa has this on all of the sunglasses they offer and the lens colors are dark to prevent eye strain. The Costa lenses are glass and scratch resistant, which is convenient when you can't fit a case in your purse and need a quick place to stash them without concern.  I have also noticed that the lenses and frame are both very easy to clean. They repel sweat and oils from your face and can be easily wiped down when needed.
The Costa Warranty
Costa has historically had one of the best warranties in the business for their sunglasses but there is endless speculation on the internet of what is covered under the Costa Del mar warranty. I got the fine print below from my Costa contact and I can confirm that they handle warranty requests quickly and easily even with the sale to Luxottica.
Our Costa Warranty Experience: I have personally warrantied three pairs of Costas in my lifetime with one pair being warrantied in the past several months. I can confirm that the Costa warranty is as good as it ever has been. Here is a link to the warranty page (Costa Del Mar Warranty Page) and you just have to create an account and follow the directions to submit the date of purchase, receipts, pictures of damage, sunglasses codes, and then ship them back with a prepaid UPS label. My warranties were due to peeling rubber on the frames and a broken hinge. Both were sent in and were repaired or replaced free of cost.
If Costa eyewear has a defect in materials or workmanship, Costa will fix or replace the frames as soon as they can to get them back to the customer. In an effort to get customers back on the water as soon as possible and limit the time they're without their glasses, Costa has moved to a digital warranty process. With the new digital warranty process, Costa assesses the damage from the pictures a customer provides and lets them know if they are covered under warranty, or would need to be repaired for a fee. The customer then decides if they would like to send in the frames. Costa will also cover all expenses for warranty claims including shipping. If a customer just needs a replacement part, they can visit https://customersupport.luxottica.com/wcsstore/costadelmar.html to purchase lenses, nose pads, and other parts.
Costa Sunglasses Limited Lifetime Warranty

We warrant Costa sunglasses against defects in materials or workmanship for the lifetime of the product.

Costa will repair or replace (with an identical or reasonably equivalent style), at our option, any product determined by Costa to have a manufacturer's defect. For additional limited warranty information, please chat with us https://www.luxotticacustomercare.com/aftersalescostachat.

Costa's Sunglasses Limited Lifetime Warranty does not cover normal wear and tear, scratched lenses, broken hinges, accidental damage, misuse or any other problems determined by Costa not to be defects in materials or workmanship ("Out of Warranty Damage").

Certain Costa sunglasses (including Prescription, Limited Edition and Special Collection) have differing warranty durations and limitations. Please visit https://www.costadelmar.com/en-us/repair-program or please chat with us https://www.luxotticacustomercare.com/aftersalescostachat for further information.
The Best Fishing Sunglasses for Women
Costa always has made excellent frames for fishing, and I love that they are making frames for women that are purposefully designed! The Salina frames are great even when you're not wearing a coordinating color. Its coastal vibe makes the design perfect for a day on the water.
Costa has a lot of other women's frames to choose from as well, check out the price and pick up a pair!
Be sure to check out our other Costa reviews!