Buying A Used Fishing Kayak: 10 Years of Experience
https://www.bassgrab.com/wp-content/uploads/jackson-coosa-2-620x350.jpg
620
350
BassGrab
BassGrab
https://www.bassgrab.com/wp-content/uploads/jackson-coosa-2-620x350.jpg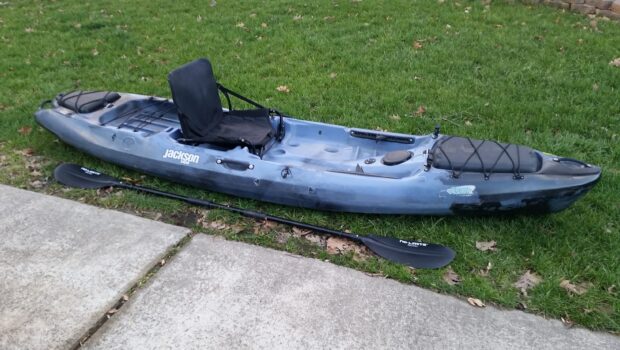 Buying A Used Fishing Kayak: 10 Years of Experience
Buying a used fishing kayak is our favorite and most affordable way to get on the water. Fishing kayaks are a great vessel to attack areas unavailable from the shore and even boat.
However, the new price tag can sometimes keep new anglers from joining in on the fun.
The team at BassGrab has been buying and selling used kayaks for the last 10 years and decided it was time to pass our knowledge on to everyone else.
Why Buy A Used Kayak And Not A New Kayak
If you're reading this article, chances are you want the luxury of a kayak without the brand new price tag. You're in luck!
There are a number of people who buy kayaks as gifts or as a hobby where they quickly lose interest. Kayaks are a big item to store, and it is not surprising that people want them out of their garage if they aren't being used. The best part is you can create a win/win scenario where you get a $1500 kayak at 60% – 70% the original cost and they get a decluttered garage. They could have just stored their kayak in a garage, though.
That's where you come in! We'll be highlighting our favorite places to buy and tactics to get you on the water and catching fish like these.
Where To Buy A Used Kayak
Let's start with where to buy a used kayak. Our favorite place is definitely Craigslist, followed by Facebook Marketplace, garage sales, and used retailers.
Craigslist
Pros: Craigslist has the widest variety of kayaks and almost always has the best price. Don't forget you can haggle with Craigslist sellers, it's almost expected. I will typically offer 70% of what they are asking and go up from there. You may get some mean responses, but more often than not they are open to negotiating, which leads you to a great buy!
Craigslist also has ways to monitor when your search queries have new listings. Use terms like "fishing kayak" "used kayak" or the exact model you're looking for – "tarpon 12" "native slayer pro" etc. You'll get a notification right away and won't have to open craigslist every morning to see if there's a new kayak. (Been there done that)
Cons: There are definitely scammers on Craigslist. If anyone ever wants you to pay with a cashiers check, PayPal or Venmo, I would suggest steering clear. The same goes for when you are selling a kayak. Cash is the way to go on Craigslist. Carrying that much money around can be daunting for some people, so we also suggest to always meet in a public area or parking lot, bring a friend, or a tell someone you're about to make a Craiglist sale. Most people are just like us and trying to sell their kayaks and love fishing, but it's smart to stay aware.
Facebook Marketplace
Pros: Basically the same as Craigslist, but you have more information about the seller. You can see their profile picture, who they are and they seem to be more trustworthy since it's not anonymous.
Cons: I've found Facebook Market place kayaks to be about 5%-10% more expensive. Not totally sure why, but you can still haggle on Facebook posts too. The worst thing they will say is "no". (Sometimes it's meaner, but you have a cool hobby of kayak fishing and they probably don't.)
Garage Sales
Pros: If garage sales were dependable and always had kayaks it would be my number one place to buy a kayak. But since they are few and far between they are my number three place to buy a used kayak. If you find one, chances are you will get a heck of a deal. We once got a like-new Tarpon 10 for $350.
Cons: Did I mention these were few and far between? You have to get lucky to find these.
Used Retailers
Pros: Buying from a store will get you exactly what you are looking for and you won't have any surprises. You will probably be able to take it for a test paddle too to make sure you like how the kayak rides in the water.
Cons: Pretty simple, it's more expensive. Like we've said, you're probably here to find out how to get a great kayak for a good price. Buying from retailer won't get you there.*

*The one exception is an REI Garage Sales. We have found many fishing kayaks for about half-price. Even pedal kayaks for under $1000. You have to be an REI member, but it's a 1-time fee of $20. If you are into kayaking in general, it's 100% worth it.
What To Look For When Buying A Used Fishing Kayak
When I am looking at a used kayak. Here is what I always check:
Location it was stored – Ideally, you want to buy a used kayak that was stored in a garage or at least under a carport or shed. You can usually tell just by looking at it. If it's covered in dirt or leaves, it was outside. They can still be ok, but you have to be extra diligent to look for cracks or weakened pieces from being exposed to the elements.
Scratches – The bottom of most kayaks will have a normal river rash, like this. That's ok and expected. What you should be looking for are deep gashes. Run your hand over any big scatches you see to feel how deep they are.
Seals – The seal around fishing pole mounts, anchor lines, lids, or anywhere else that goes into the body of the kayak is the most likely place you'll find a leak on a kayak. Make sure to check these. Take your time looking over the kayak, don't rush it.
Accessories – Does it come with a kayak seat, paddle, trolling motor (with a battery), anchor, kayak fishing life jacket, knives? Those accessories add up quickly, but not always the best as a used item. You do want to make sure they are all top of the line.
The Most Popular Used Fishing Kayaks And What We Would Offer
These kayaks will differ depending on your region, but I've lived in 4 different cities from Florida, Georgia, Texas, and North Carolina, and I always seem to find these kayaks.
This kayak retail for about $1,000 new (kayak only), and you can expect to pay around $750 for a 1-year old kayak. Expect a $50-$100 drop off in each corresponding year. This one comes with a $130 paddle and $160 life jacket.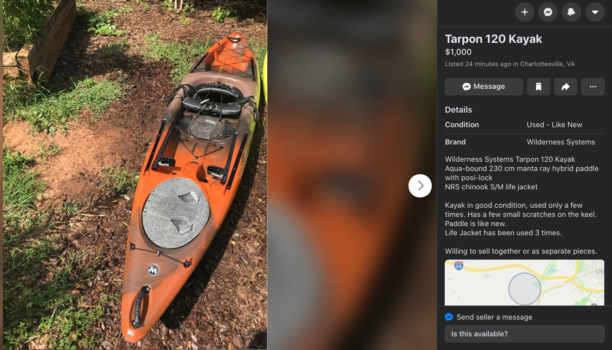 Our starting offer: $750
Native Slayer Propel
This pedal kayak retails for about $1899, and you can expect to pay $1,500 (kayak only) for a 1-year old kayak. Expect a $50-$100 drop off in each corresponding year.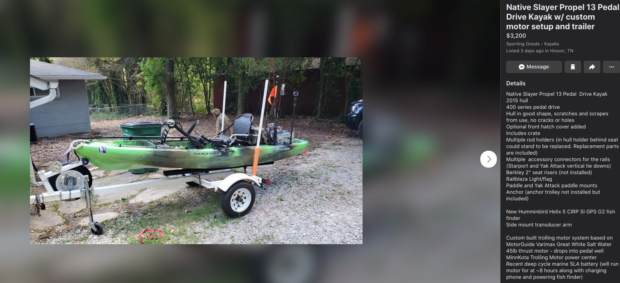 Our starting offer: $2,600
This popular a well-known pedal kayak goes for around $3,739. You can expect to pay around $2,900. Expect a $50-$100 drop off in each corresponding year.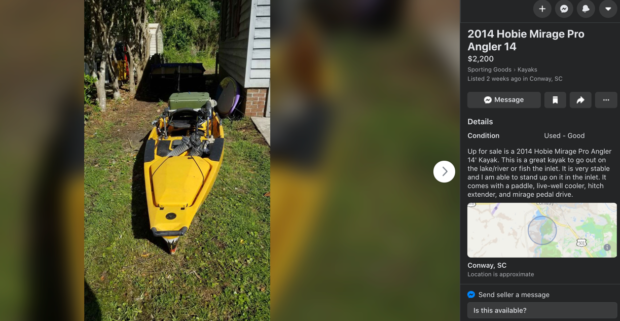 Our starting offer: $1,800
Jackson Cuda
This great kayak (also our team's favorite) runs for about $1,400 new. Expect to pay around $1000 for a 1-year old model and $50-$100 less for each following year. We included this example because of the many extras that can come with kayaks. In this car, a fish finder, lights, paddle, batteries, fishing gear, kayak cart, rod holder, anchor, and more.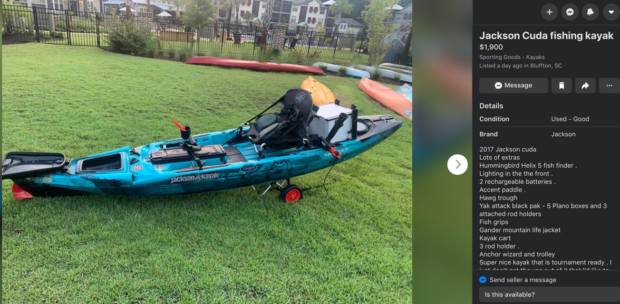 Our starting offer: $1,200
How To Get Your Kayak Home
So you got a sweet new (to you) kayak and you're going to go meet up and take it home. Awesome! If you have a truck, you can most likely throw it in the bed, just make sure to have some straps on it and put a flag at the end that is pointing out of your bed.
However, if you have an SUV or a car, you're going to need a roof rack. I mean, no you don't have to, I've seen someone buy my Jackson Cuda 14 and put it in the back of his Mini Cooper. It worked, but his trunk was open and his car doubled in length. I would not recommend that. If I were you I would get a nice roof rack. Now that you have your kayak you need to be able to use it!
I personally use the Thule SquareBar on my Pathfinder. I know it's sturdy and can hold the weight of my kayaks and canoes. I get the wide bars so I can throw two on top if I'm going with a friend.
If you don't have the budget for that, you can always use a portable roof rack like these, but I would personally recommend something more permanent and sturdy. It makes getting out on the water easier!
Go Find Your Used (New) Kayak
We also want to put our money where our mouth is. If you are ever looking at used kayaks online and want someone who has looked at over 1,000 kayaks over the last decade. Feel free to send us a link or picture of the kayak to bassgrab@gmail.com and we'll take a look. Good luck!
Check out our other articles about Kayak Fishing:
Wesley Anderson
Wesley lives in Georgia and has spent the last 30 years hiking, camping, and fishing. Wesley has been in the fishing online industry since 2011 and loves sharing his knowledge of fishing products and fishing techniques. In order to give readers hands on knowledge, we've put hundreds on products to the test.
All stories by: Wesley Anderson