What is the Best Knife for Fishing?
https://www.bassgrab.com/wp-content/uploads/spyderco-544x350.png
544
350
BassGrab
BassGrab
https://www.bassgrab.com/wp-content/uploads/spyderco-544x350.png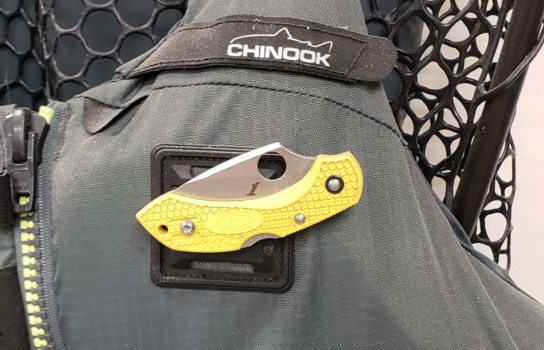 What is the Best Knife for Fishing?
Knives are invaluable when you're out on the water. They can chop up bait, cut your line, and save your life. Here are some recommendations I have based on real world kayak fishing experience. These are all knives I have personally bought and used while fishing and they are excellent! However, when it comes down to it the best knife is the one you have with you.
I usually carry three knives while I'm fishing
All Purpose Knives
When it comes to the best all purpose knife or EDC (every day carry) knife for fishing I have some suggestions, but a lot of it really comes down to your own personal preference. Some basic guidelines I can provide would be to focus on a medium sized serrated folding knife with some sort of corrosion resistance and a secure clip. I prefer a serrated blade because it will cut rope more easily than a plain blade.
Top choice knife right here. It is a Salt version by Spyderco which means it will never rust and it has the patented Spyderco serrations which are just wicked sharp and useful. I keep this one clipped to my life vest at all times.
This uses 14C28N Sandvik Steel with a DLC coating that makes it even more corrosion resistant. I have yet to see any wear on this knife, and it is razor sharp with an aggressive serrated tooth pattern. It has nice rubbery inserts in the handle and a solid clip.
I own the regular version and it can literally slice through thick climbing rope like butter. The salt version is also available and I would have purchased that had I know how much I bring it fishing with me. Yes, my knife is quite dirty and needs a good cleaning.
Tackle Knives
I prefer a super sharp small plain edge knife for tying tackle, cutting braid, and modifying lures. The flat edge makes it much easier to cut tough braided knots by pinning it against something solid and slicing.
I own three of these and always grab one when I go fishing. The main reasons are because it is small, sharp, has a clip, the blade can be replaced, and it's a great value so I don't care if I lose it. Perfect candidate for a tackle knife. This is my razor of choice, but really any razor blade will work well as a tackle knife.
I've had two of these Spyderco Ladybuy 3 knives, and I have lost a yellow handled salt version in the water while fishing. That is a tough pill to swallow at this price, but it is still a phenomenal knife. The paracord loop is essential on this one since it is actually a very small knife, about the size of your index finger.
The version of the Kershaw Leek I have is a titanium-oxide coated which gives it extra corrosion resistance and a sweet rainbow coloring, however there are a lot of different varieties available if that doesn't appeal to you. The blade is Sandvik 14C28N steel that resists corrosion and the handle is 410 stainless steel. Overall a razor sharp blade in a nice thin package.
Bait Knives
Bait knives can range from high end to bottom of the barrel, the choice is yours. I personally tend to buy a bait knife somewhere in the middle of the price range since a bait knife can be easily lost, but at the same time I don't want to be pushing my knife too hard and slip.
There are three key elements I look for in a good bait knife. It needs to have a fixed blade, it needs to have a good grip, and it needs to be sharp. A fixed blade knife is the right choice here because it is a single piece tool that is instantly available and is solid enough to handle tough bait. It will also be easier to clean.
Cutting through scales, shells, and bone will quickly dull a knife and it can get very slippery – hence the need for a good rubber handle. I also really prefer a stainless steel bait knife because it lasts infinitely longer when rust doesn't set in. Without some sort of corrosion resistance you will need to replace the bait knife every so often, especially if you're fishing in saltwater.
Bubba blades have become very popular lately, and for good reason. This is technically a filet knife, but it is very stout and can easily double as a bait knife. The handle is also designed so well that it is all but impossible to have it slip.
My top choice for a bait knife without a doubt. It is Swedish made, has a stainless steel blade, comes super sharp, has a durable rubber handle, and the price is right.
If you're in the school of thought that a bait knife is a disposable item after a handful of trips and don't want to be worried about losing it (perfectly understandable), then this is the knife for you. Your best option would be to pick one of these up at your local bait shop.
Tips
Metal plus water always equals rust. Metal plus saltwater equals instant rust. Chose your knife metal or coating accordingly when buying a knife.
Keep your knife sharp. Almost all of the times I've cut myself it has been from trying to push a dull knife too hard.
You will lose knives in the water. Be prepared for it and mitigate the risk by adding a para-cord loop so you can easily clip it to a carabiner or loop around your wrist. Alternatively add a float to your knife if it isn't too bulky.
A brightly colored knife handle will help you locate it instantly for quick use and can help you find the knife if you drop it.
Heath Anderson
Heath lives in North Carolina and has been an avid fisherman and all around outdoorsman for the past three decades. In addition to enjoying the outdoors, Heath has been active in the online fishing industry since 2010, teaching and sharing reviews of fishing products on BassGrab.com to help anglers catch more and look good while doing it.
All stories by: Heath Anderson