TOP 5 KAYAK FISHING PADDLES of 2021
https://www.bassgrab.com/wp-content/uploads/angler-kayak-paddle-620x350.jpg
620
350
BassGrab
BassGrab
https://www.bassgrab.com/wp-content/uploads/angler-kayak-paddle-620x350.jpg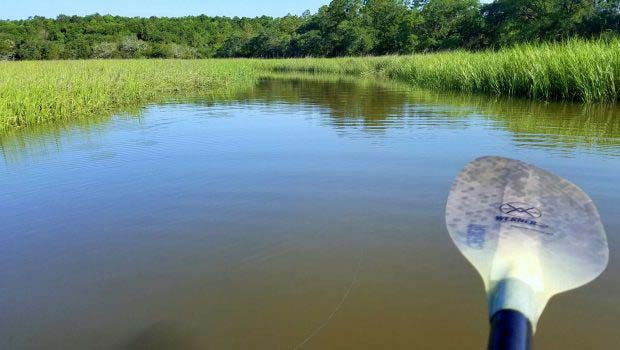 TOP 5 KAYAK FISHING PADDLES of 2021
Choosing the Best Paddle
I've included the top five kayak fishing paddles that I highly recommend and have either fished with or currently own. These paddles are on the more expensive side, but they are all highly recommended and I feel like I'd be doing you a disservice to recommend a cheap paddle. When you are purchasing a paddle under $100 there really aren't any differences between them since they're mostly all made of aluminum, plastic, or fiberglass and are all quite heavy. Paddles should have the same thought and research you put into choosing your kayak since it is your single point of connection and maneuvering on the water. Check out the paddle reviews and comparison table below and be sure to read about how to choose a kayak paddle to get the best one for you before buying!
Kayak Fishing Paddle Comparison
Bending Branches Angler Pro
Specs
100% carbon shaft
Compression molded fiberglass blade
105 sq. in. of blade surface area
Very lightweight at 28.5 oz
0 degree and 60 degree ferrule angles
Features
Large paddle surface for powerful strokes
Lightweight paddle so you can stay out on the water longer
Durable paddle construction
Pro staff designed color options
THE BEST FISHING PADDLE
I personally own the Bending Branches Angler Pro paddle in a 230cm size. It is a great paddle for kayak fishing and it was just built to be tough. Up until last year the paddle was fairly plain and was really a sleeper in the paddle game, however they have updated the blade designs and it really stands out now.  It is light, strong, and includes and ruler printed on the handle. This is an excellent paddle and the company is deeply rooted in fishing as you can tell from their paddle design. They clearly have put in the time to find out what makes a paddle great for a kayak fisherman. This paddle will perform flawlessly for most people.
Werner Camano
Specs
Carbon blend shaft
Fiberglass blade construction
100 sq. in. of blade surface area
Dihedral blade design for smooth paddling
Features
Mid size blade offers best comprise on power and distance
Wide variety of options in shaft pieces, ferrule, and colors
Durable fiberglass blades matched with carbon shaft
Dihedral blade for smooth and stable forward paddling
THE BEST LONG DISTANCE PADDLE
If you've been kayaking for any length of time you've heard of Werner paddles. Let me just say, there is a reason they are on this list twice. They are at the top of the game and make some of the best paddles in the industry. The Camano is a wildly popular paddle and it is designed as a low angle paddle for endurance and paddle long distances. It provides the perfect combination for anglers who want enough power to chase after fish all day but don't want to be dead tired. The smaller thinner blades offer a lighter stroke with less power that you can sustain all day long. The paddle itself is made of carbon blend shaft with a fiberglass blade construction. This is a very popular design choice in kayak fishing paddles because they are strong and light and come in at a reasonable price. I can guarantee if you try this paddle you will not want to go back. If you are wanting to lighten the weight even more, the Camano is also available in a high performance and lightweight full carbon version.
Wilderness Systems Alpha Angler
Specs
Full carbon paddle construction
94.5 sq in of blade surface area
Weighs only 27 oz
Adjustable shaft from 240cm to 260cm
Features
Aggressive blade design for maximum power
Adjustable shaft length perfect for fishing kayaks
Full carbon construction offers lightest and strongest paddle
Integrated shaft measuring tape
THE FEATHERWEIGHT CARBON CHAMPION
This paddle is no joke. It is the lightest possible paddle you can get at 27 oz and you will pay for it. It is made of 100% carbon fiber and it is the pinnacle of kayak paddle design and engineering. Make sure you don't lose this one. The Alpha Angler features a powerful and aggressive blade design which is perfect for anglers that want to achieve maximum power and paddle faster on the water to get to their destination. The high angle design is great for quick powerful strokes and fishing a wide variety of conditions. This paddle also accommodates kayaks that use a high/low seat setup with a simple flip of the lever. It can be adjusted in length to fit different seat heights and paddler sizes. Also the design of this paddle is just spectacular – it is aesthetically pleasing and I personally love seeing the carbon fiber.
Werner Shuna Hooked
Specs
Carbon shaft
Durable fiberglass blades
95.3 sq. in. of blade surface area
Weighs in at 27.5 oz – very light
Features
Powerful blade to maneuver boat for good casting angles
Perfect light, stiff, and durable high angle paddle
Adjustable ferrule for offset feathering choice
Dihedral blade design with stiff spine
THE MOST DURABLE PADDLE
The Werner Shuna is my other main paddle right now and I love it. I really enjoy the strong paddle power I can get out of the stiff fiberglass blades and the carbon shaft feels just right. The compression molded fiberglass blades are also super strong. I kayak fish in inshore areas often that have huge beds of oyster shells that scratch up everything, and the paddle has held strong and has not taken any damage despite using it to push of the beds sometimes. It's often hard to explain why one paddle is better than another in just words, when you hold and test paddles you understand. However, what comes to mind with the Shuna is natural. It just feels right and it paddles strong.
Aqua Bound Sting Ray
Specs
Carbon paddle shaft
Injected nylon reinforced fiberglass blades
91 sq. in. paddle surface area
Infinite ferrule angles with posi-lock
Features
Smooth flutter free forward stroke with blades
Posi lock ferrule allows for infinite feathering angles
Reinforced nylon blades much stronger than plastic
Well suited for high angle paddlers
THE BEST BUDGET PADDLE
The Aqua Bound Sting Ray paddle is an entry level paddle but offers several distinct features that elevate it above other entry level paddles in the group. It has a full carbon shaft construction along with nylon blades reinforced with fiberglass. The nylon blades make it the heaviest paddle on this list, but don't discount it based on that, the paddle is a solid performer, it is well balanced, and it is very easy to use. One high end feature you get out of this paddle is the unlimited ferrule angles from the posi lock system which is great if you like paddling with offset blades.
Common Kayak Paddle Questions