Toadfish Stowaway Travel Spinning Rod Review
https://www.bassgrab.com/wp-content/uploads/IMG_1178-scaled-e1636057139690-1200x900.jpg
1080
810
BassGrab
BassGrab
https://www.bassgrab.com/wp-content/uploads/IMG_1178-scaled-e1636057139690-1200x900.jpg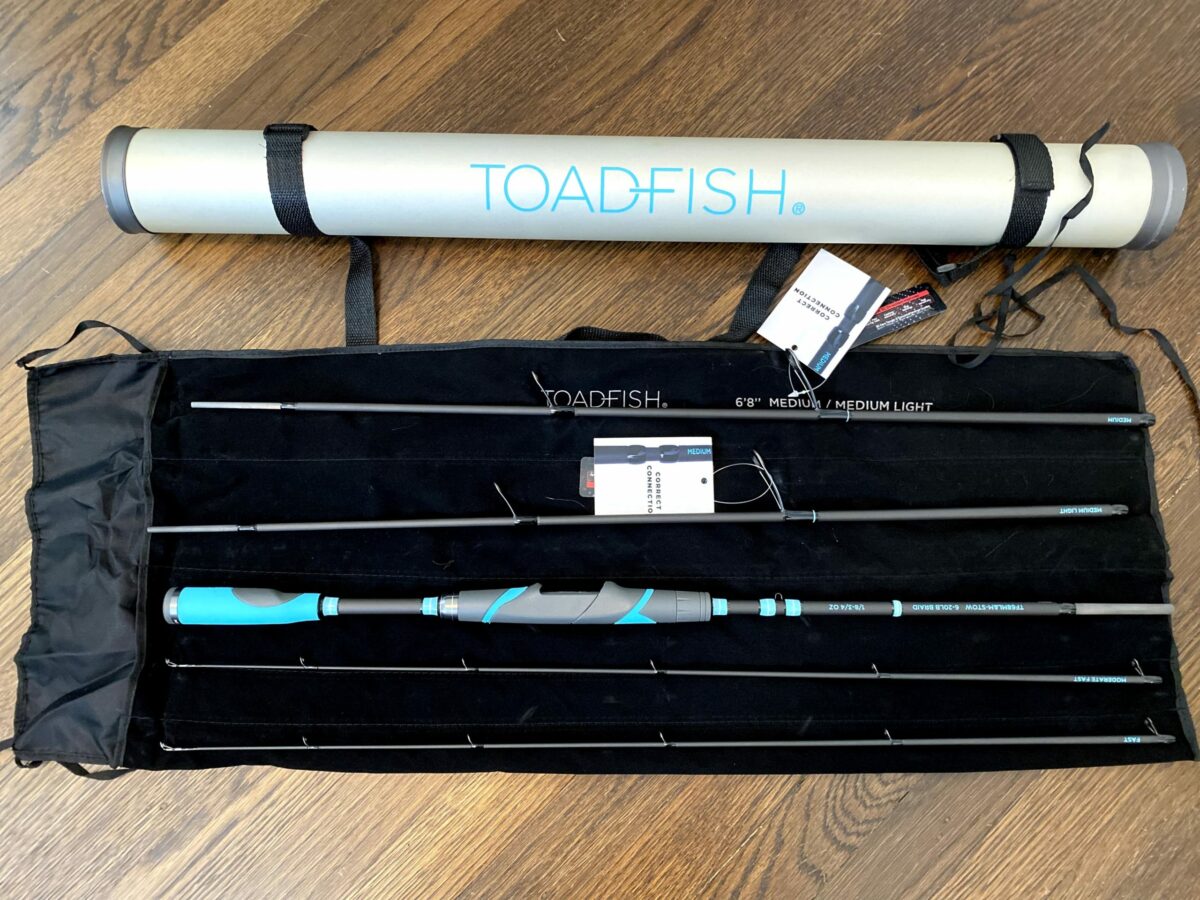 Toadfish Stowaway Travel Spinning Rod Review
Reviewing a travel rod is one of my favorite reviews to do. Travel rods seem to get a bad rap for not being as sturdy, having no feel, or not being balanced. To me, I've always had a travel rod that I've kept in the back of my car in case I came upon a fishing spot when I was least expecting it. The Toadfish travel spinning rod does just that and is perfect for the back of my SUV.
First Impressions
The first thing you'll notice when you order a Toadfish rod is the presentation. It comes in a crush-proof travel metal tube and a rod stowaway system to keep your rod looking its best.
You can purchase the spinning rod here from Toadfish. Continue reading below for more details about the rod!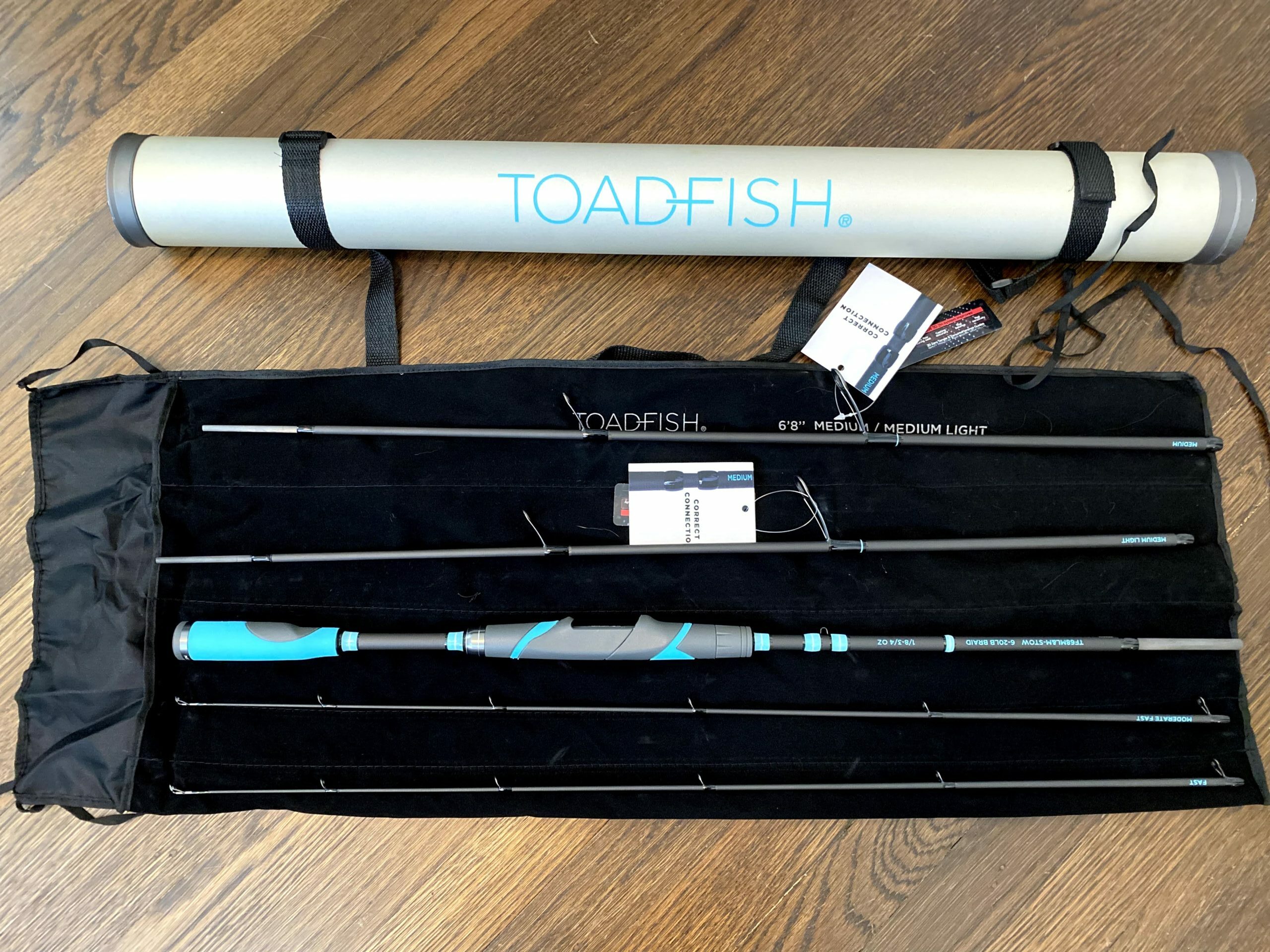 Best Travel Spinning Rod
Toadfish Stowaway Travel Spinning Rods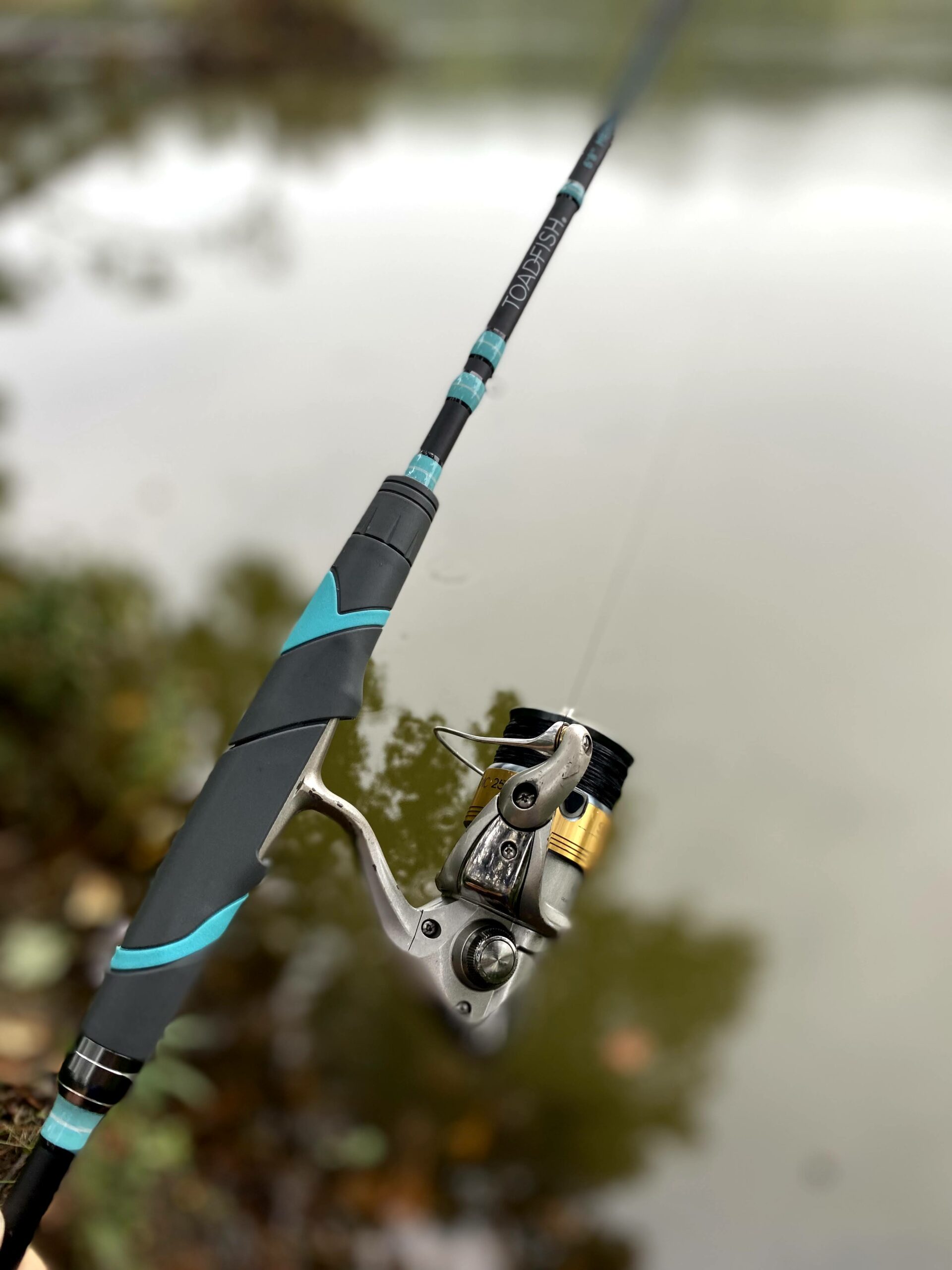 What Comes In The Box
The Toadfish Stowaway Travel Spinning Rod is my new favorite rod. First of all, I know looks aren't everything, but this rod looks amazing. The dark grey and teal combination really stands out. It comes in 6'8″ and 7'2″ and hides away perfectly. To make all the users feel better, this rod comes with:
2-Interchangeable mid-sections
2-Interchangeable tip-sections
1-Ergonomic Toadfish handle
1-crush-proof aluminum travel tube
When I first got the rod I was confused about how long this rod was supposed to be, but instead, I realized it came with the interchangeable mid and tip sections for us to create whatever feel we want -medium and medium-light for the mid-section and fast and moderate fast for the tip.
Not only does this let you change the feel of what we're looking for – this also gives us a spare in case a tip ever gets broken. I love that.
Stowaway Travel Spinning Rod Features
Toadfish crafted this rod with the travel-fisherman in mind, but this rod also works for the everyday fisherman.
30/40 ton high carbon graphite blanks to feel every bite
Spigot ferrule connections to provide the feel of a 1-piece rod
Patented Toadfish reel seats with built-in rubber inlays
Kigan 3D stainless steel tangle-free guides
The salt-tough ergonomic handle feels like an extension of your hand.
Soft-touch rubber handle inlays provide exceptional grip and unparalleled comfort.
Hidden hook safe keeper hides a single hook inside the handle.
These are the specs listed on the Toadfish website. Here are a few other things you may want to know.
This rod has a 100% recycled plastic handle as opposed to most rods with cork. I personally loved this. It fits into their culture as a sustainable company and it won't crack with sustained use in saltwater.
The grip also has rubber sections to make sure your hands don't slip if the rod gets wet. It works.
The tip of the rod is very sensitive and you can feel everything. As a kayak fisherman that mainly fishes inshore, that's something I look for in most rods.
The guides seem to promote long casting. For kayak fishing, this wasn't a huge necessity as we're able to get closer to the fish.
Is the Toadfish Stowaway Spinning Rod worth it?
In short, yes. This is one of my new favorite rods. It casts far, has the sensitivity I need, is durable, and doesn't feel like a normal travel rod. If that doesn't convince you. Take a look at what Toadfish is doing for the waters with it's Coalition. It's why Toadfish is one of my favorite new brands.
Toadfish Conservation Coalition
Toadfish is one of our new favorite brands. Not only do they make products that fit all anglers (Toadfish Non-Tipping Can Koozie, Toadfish Filet Knife), they also are a key supporter of conservation in our oceans.
The Toadfish Conservation Coalition (TCC) was formed in 2019 by entrepreneur and coastal educator Casey Davidson and his wife Amanda, to address coastal water quality – 1 oyster reef at a time. By rebuilding oyster reefs, we are cleaning coastal waters, restoring critical habitat, and coastal buffering at a time when our coasts need it most.
When you make a purchase from Toadfish, they give money to purchasing shells and supporting oyster shell recycling programs nationwide. They place new reefs in protected coastal areas.
If you don't know or haven't seen the impact oysters have on waterways – take a look for yourself. Toadfish Coaltion.org
Wesley Anderson
Wesley lives in Georgia and has spent the last 30 years hiking, camping, and fishing. Wesley has been in the fishing online industry since 2011 and loves sharing his knowledge of fishing products and fishing techniques. In order to give readers hands on knowledge, we've put hundreds on products to the test.
All stories by: Wesley Anderson