Learn About The 8 Freshwater Fishing Lakes in North Carolina
https://www.bassgrab.com/wp-content/uploads/lake-north-carolina-fishing-1200x675.jpg
1080
608
BassGrab
BassGrab
https://www.bassgrab.com/wp-content/uploads/lake-north-carolina-fishing-1200x675.jpg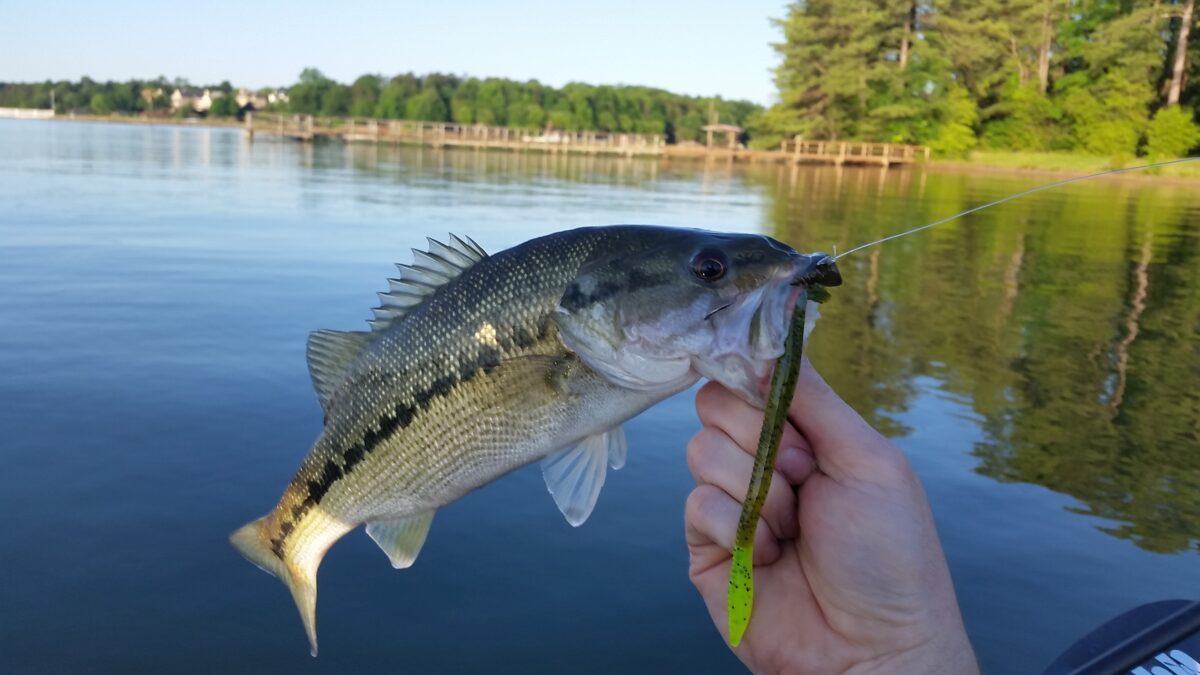 Learn About The 8 Freshwater Fishing Lakes in North Carolina
North Carolina has such a diverse area of fisheries. You can go to the coast and target offshore and inshore species such as redfish, flounder, and cobia. Or you can travel to the mountains and target the rivers full of trout. In between the coast and the mountains we have some of the best freshwater fishing in the eastern United States. We have highlighted the best eight freshwater fishing lakes in North Carolina that should definitely be on your list of fishing destinations. The state really has something for every fisherman if you know where to go, but above all just get out and fish.
Lake Norman
Lake Norman is one of the most popular lakes in North Carolina. It is a huge lake full of fingers and creeks that are great for freshwater fishing. The lake used to be a river that was dammed and flooded by Duke Energy back in the 1950's and it still has churches, schools, homes, and cemeteries under the water. Lake Norman is a great lake for fishing, however be sure to be aware of the boat traffic. I've fished here on weekends and there is no way you're going to get a kayak across the main channel that the boats are whipping through – best keeping to the shoreline creeks and hitting docks for spotted bass or catfish.
Lake Norman has many freshwater species including largemouth bass, spotted bass, channel catfish, blue catfish, white crappie, black crappie, perch, and more. You can spend a lot of time here targeting different fish and the fishing techniques change quickly with the water temperature.
Lake Norman is only thirty minutes north of downtown Charlotte which makes it a very popular destination for not only anglers but all kinds of watersports. The scenic beauty of Lake Norman is best seen by boat. There are several marinas that grace the shores, providing launch sites for boats. In addition there is Lake Norman State Park which provides ample opportunities where you can enjoy a picnic, concerts, hiking, biking, and much more.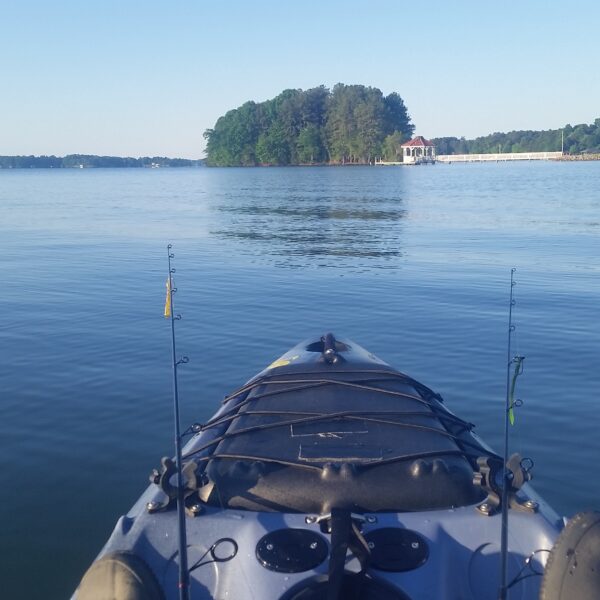 Lake Waccamaw
Lake Waccamaw is a large lake located in the southeastern part of North Carolina near the town of Elizabethtown. Lake Waccamaw is famous for its white perch, which are not present in other Carolina bay lakes. Anglers can also expect largemouth bass, chain pickerel and bowfin as well.
With Not much else to do in the Lake Waccamaw area, we suggest making this a stop along your way to one of North Carolina's beaches. This freshwater lake is located just a couple of miles off of US-74 which connects Charlotte to some of our state's most visited beaches including Wrightsville and Carolina Beaches.
Be sure to have one of the best fish finder's onboard plotting your course back to your launch area because Lake Waccamaw is a whopping 5.2 miles in length and 3.5 miles wide.
Jordan Lake
Jordan Lake is a large lake located in the central part of North Carolina just south of Durham. This lake is known for its clear water and abundance of fish including largemouth bass, crappie, striper, hybrids, bream, catfish, and white perch. 
It's a giant lake that covers 13,900 acres and holds everything, but that also means you have to take your time to find the right spots. You'll have to look for fallen trees, depths, creek channels and more to catch the fish.
Don't forget that this lake is also a popular destination for swimming and boating, so you won't be alone out there and should get an early start. In addition, there are several parks and nature trails in the area.
If you're looking for a lake with plenty of fish, beautiful scenery, and you're around Raleigh, Jordan Lake is the perfect spot.
Lake Glenville
Lake Glenville or the Glenville Reservoir is a beautiful 8 mile lake located in the western part of North Carolina near the town of Cashiers. This lake is known for its clear emerald water and stunning mountain views.
Fishing is great year-round on Lake Glenville, as it's home to several species of fish including large and small mouth bass, walleye, yellow perch. crappie, rainbow and brown trout, large brim and a few catfish. The lake is also a popular destination for swimming, boating, and kayaking.
If you're looking for a beautiful lake to relax and enjoy some fishing, Lake Glenville won't let you down. Not to mention, the surrounding Nantahala National Forest is one of my favorite places in the country for hiking.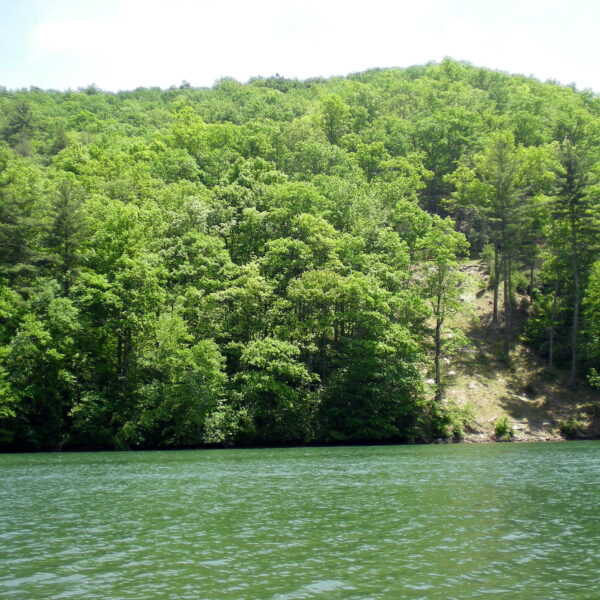 Lake Fontana
Lake Fontana is only about 30 minutes from the Tennessee state line and outside Bryson City in North Carolina. This lake is abundant with different species of both bass and trout. Other common fish species found in this 31-mile-long lake include crappie, walleye, muskie, carp, and catfish.
Fontana is a hidden gem in the western part of North Carolina, with its emerald green water and breathtaking view of the Great Smoky Mountains. With more than 90% owned by either National Park Service or US Forest Service, much of the shoreline is undeveloped and in pristine natural form, so no wonder why Fontana Lake is number 1 on our list.
Lake Chatuge
Lake Chatuge is a beautiful lake located in the far western corner of North Carolina, near the town of Hayesville. This 7,500-acre lake is home to many different species of fish including bass, hybrids, trout, sunfish, and catfish.
The lake is accessible from both North Carolina and Georgia, but we still kept it in here. One of the most popular fish here is the hybrid bass. A mix between a white bass and a striper, these fish will pull your drag and they taste pretty good, too! They will school up in the summer so once you find them, get ready to cast as many lines as you can out there. Keep the school happy and you'll catch 10 or more once they are found.
Hybrid bass are a lot of fun, but don't forget about the largemouth as well. They're in here and have gotten big from the regulations the lake has put into place. You can have a great day of fishing in North Carolina on Lake Chatuge.
High Rock Lake
High Rock Lake is a large lake located in the central part of North Carolina near the town of Lexington. This lake is home to many different species of fish including bass, crappie, catfish, and stripers.
High Rock has also hosted a few Bassmaster Classics back in the day so you know the bass are good here. Talk to the local bait shops and see if they can point you to any of the fish attractors that have been placed in the water, or head out and be prepared to use your depth finders to find the fish.
They've also started to do more of their own fish population management. Which is great for the catch and release fisherman. Growth rates for largemouth bass are consistently above average and crappie growth rates have increased in recent years. NC Wildlife conducts surveys every three years to assess the bass and crappie populations and the feedback has been positive.
Mountain Island Lake
Mountain Island lake is just north of Charlotte and situated between Lake Norman and Lake Wylie. These three lakes are connected by a series of dams that make it a perfect place for freshwater fishing. Mountain Island lake is a mix of a lake and a river due to the dam and it contains blue catfish, channel catfish, spotted bass, crappie, striped bass, and largemouth bass. The lake ranges in depth from around 15ft to 60ft deep so it offers unique freshwater fishing opportunities that can be both challenging and rewarding for anglers.
The main area of the lake has quite a few docks to fish as well as natural underwater structure and drop-offs, then as you go north it evolves into an undeveloped and natural landscape near the Latta Plantation and narrows into a more shallow river as it snakes upward towards Lake Norman. If you have the right boat that can run shallow and handle rocks you can go all the way up to the dam that connects Mountain Island Lake to Lake Norman and fish that area just below the dam for striped bass.