Shakespeare Ugly Stik Lite Spinning Rod
https://www.bassgrab.com/wp-content/uploads/bend-1.jpg
400
225
BassGrab
BassGrab
https://www.bassgrab.com/wp-content/uploads/bend-1.jpg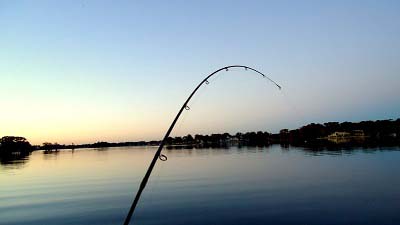 Shakespeare Ugly Stik Lite Spinning Rod
Product: Shakespeare Ugly Stik Lite Spinning Rod
Model: 6'6'' Medium Action
Manufacturer: Shakespeare
Sizes: (4'6'' UL 1-piece), (5' UL 1-piece), (5'6'' L 2-piece), (6' MH 1-piece), (6′ M 2-piece), (6'6''M 2-piece), (7' M 2-piece)
MSRP: $49.99 (See Current Price)
Sent from Shakespeare
Introduction
The first rod that my grandfather bought for me when I was eight was a Shakespeare rod fitted with a Zebco reel. Since then I have owned three other Shakespeare rods including a Shakespeare combo, an Ugly Stik, and now an Ugly Stik Lite. I must say that the products released by Shakespeare just keep getting better. I was incredibly impressed with Shakespeare's original Ugly Stik in terms of sensitivity and quality vs. price, however the Ugly Stik Lite has completely blasted it out of the water. Essentially it is an Ugly Stik, but it has an extra layer of graphite around the blank which makes it much more sensitive to bites as well as the lake terrain. The increased sensitivity from the extra graphite content does not come at a sacrifice in the strength of the rod.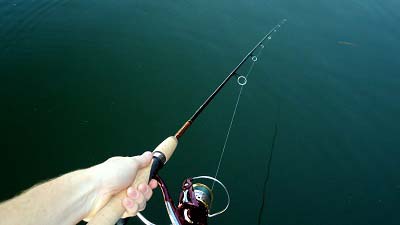 Full length shot of the Ugly Stik Lite
Features
The key quality feature that this rod includes is the stainless steel guides. I have had numerous ceramic guides on my rods crack or chip, which creates a razor-sharp edge that will surely cut your line as soon as you hook a bass. Therefore I tend to favor other materials for guides such as stainless steel, and Shakespeare has delivered. As a whole, the Ugly Stik Lite offers all the great qualities of the Ugly Stik but with a thinner, lighter, and stronger rod. The sensitivity in the rod is amazing, and it undoubtedly comes from the extra graphite and Shakespeare's patented Clear Tip design. The Clear Tip is a fiberglass tip built into the top 6'' of the rod that makes it incredibly sensitive and strong. The Ugly Stik Lite also features a very quality top grade cork handle that really gives incredible grip, and offers great performance in wet conditions. Shakespeare also added a graphite reinforced reel seat. To cap it all off, Shakespeare offers a 5 year warranty on the rod!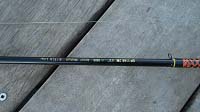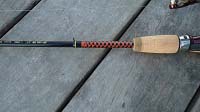 Ugly Stik Lite Shaft                               Ugly Stik Lite Cork                               Ugly Stik Lite Handle

Actual Testing/Use
After going through all the new features of the rod, I was very excited to test it out and I had high hopes. Let's just say it did not let me down. It performed great and it felt very natural to use. The rod was tested on Lake Maitland with several friends, and as we were loading up one of them actually showed up with the same rod. It worked out great because we all got to test it out and put our input into the review. We also caught some gar!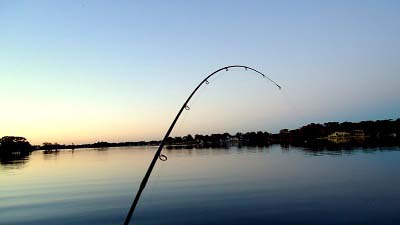 Ugly Stik Lite Strength Testing
We were not able to hook a bass large enough to effectively test the strength of the rod, so we had to do it ourselves. The Ugly Stik Lite has a tendency to exaggerate the size of the fish on the line because of its extreme sensitivity, however when we added some extra weight to the line it really felt as though it were able to handle it. I believe that the Clear Tip fiberglass design gives it a lot of give in the top, while the rest of the rod maintains a strong body.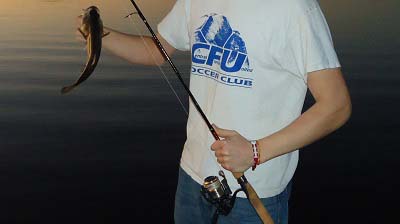 Landed a small bass on the Ugly Stik Lite

Pros
Stainless steel guides and inserts

Top grade cork handle

Great value for the money

Incredible sensitivity and strength

Very tough and durable

Cons
6'6'' does not come in a one piece model

The large number of guides may reduce casting distance

Overall
The Ugly Stik Lite is definitely a great rod for the money. It has the ability to compete in a category of rods way above it, even though it is currently priced at only $49.99.  It features strength, sensitivity, and durability in an attractive rod that feels great. I would definitely recommend this rod to friends and anyone who wants a quality rod at a small price.
Heath Anderson
Heath lives in North Carolina and has been an avid fisherman and all around outdoorsman for the past three decades. In addition to enjoying the outdoors, Heath has been active in the online fishing industry since 2010, teaching and sharing reviews of fishing products on BassGrab.com to help anglers catch more and look good while doing it.
All stories by: Heath Anderson