Best Inshore Spinning Rods
https://www.bassgrab.com/wp-content/uploads/Best-Inshore-Rods-620x350.jpg
620
350
BassGrab
BassGrab
https://www.bassgrab.com/wp-content/uploads/Best-Inshore-Rods-620x350.jpg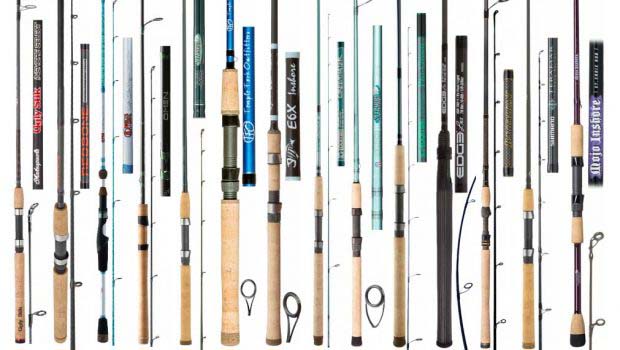 Best Inshore Spinning Rods
Inshore fishing is hands down one of the most exciting and simple types of fishing, which is why I love it so much. There is a thrill with never knowing what will take your bait; will it be a small pup red or a monster tarpon that will spool you in seconds? While I also really enjoy bass fishing, it is so much more technical, and the rods have become so lure specific that you need at least five or more for a morning on the water. For inshore fishing you can cover almost everything with a single 7′ – 7'6" medium action spinning rod.
Flats fishing is heavily in the spinning territory when it comes to rods and reels. That's why we wrote a guide on the best inshore spinning reels, too.
So why is flats fishing heavily in the spinning territory? There are three reasons – distance, simplicity, and power. Inshore fish on the flats are spooked very easily and to see tails and fish rather than just mud swirls in the water it's better to cast longer distances to reach them and pinpoint accuracy isn't as important as the length of your cast. This can mean really whipping some of your lighter lures which would inevitably result in a massive birds-nest if you were using a baitcaster. Another factor is the inherent simplicity of the spinning reel. Inshore environments are rough on gear since there is salt, sand, mud, and grass beating up the rods and reels. You are also typically at water level and if you're wading or kayak fishing there is a good chance your gear will take a dip at some point. Spinning reels are easy to breakdown and service after a dunk in the water. Lastly we have power, which you don't really need a lot of on a wide open flat with lots of room to run. Therefore a spinning rod with line running through the guides on the bottom will work just fine, using more arm strength than back to put pressure on the fish.
Why Buy a Quality Rod?
"Good rods can be made out of anything from bamboo to modern carbon fiber. But a good rod must have the right length, power and action to do a specific job. To make a good rod better is to make it lighter and more sensitive without sacrificing durability."
– Gary Loomis
The bottom line is you don't have to have a nice rod to catch inshore fish. In fact you don't have to have any rod. I'd be willing to bet I could snag a greedy redfish on a length of rope if I cared to, but that's not the point of fishing. We like the fight, and the thrill of the line getting dangerously low on the spool, and the feeling in the rod as the fish turns or gets ready to jump. Buying quality gear puts you in the position to experience all of that and gives you an advantage over the other guys just throwing line tied to sticks. Also it just feels better.
A lot of the designated rods for inshore fishing will have the 'inshore' name attached to them by the company. They offer longer lengths so you can cast bait out further, a stronger backbone to horse in over-slot fish, and better guides that have an increased corrosion resistance. Pair this with some prime inshore rod specs below and you are ready to go.
Inshore Rod Specs
LENGTH: 7-7'6" ft is the sweet spot for inshore rods. This will let you cast far but still maintain a manageable length with a good backbone for fighting fish.
ACTION: The rod action is how fast it returns to its normal state when flexed as well as how much of the rod will flex. For example a Slow action rod will carry a bend throughout the entire length of the rod while an Extra Fast rod will only visibly bend in the last few feet and be more stiff in the rod butt. This can be a personal preference, but I feel anywhere from Mod-Fast to Extra Fast is good for inshore and I typically look to buy a rod labelled as Fast after I give it a few shakes in the store. You typically will find rods with an action rating of Slow, Moderate, Mod-Fast, Fast, Extra Fast.
POWER: The power rating is how strong the rod is. Typical rod power includes Ultra Lite, Light, Medium Light, Medium, Medium Heavy, and Heavy. Avoid heavy and ultra lite for inshore, anything else puts you in the correct range depending on the species and size you're targeting. Bend the rod with your hand to get a feel for the power. Medium is usually the best all-around power for inshore.
LINE WEIGHT: This spec is fairly misleading with the braided lines on the market today. The line weight is a better indicator of the rod power and I like to use it to compare different rods. For example when buying a new rod, I will look at my existing rods and their line weight and make my decision from there. Also I spool almost all my inshore rods with 15 to 30 lb. braid regardless of the line weight rating on the rod.
LURE WEIGHT: The lure weight rating can be very helpful on a rod to determine the best rod model for a specific size lure you're planning on casting. This doesn't mean it can't cast a lure lighter or heavier than the rating, but the optimal rod load and casting performance is designed for a lure within the lure weight range. This can be tricky to determine if you're using live bait, but for any other artificial lure or jig head the weight is clearly marked on the package.
Best Inshore Rods
Under $100


Shakespeare Ugly Stik Inshore Select  – Check the current price on Amazon
Anyone surprised that this rod is on the list? If you are then you must have been hiding under a rock for the last 20 years while everyone and their mother have been raving about the price to value ratio you get from an Ugly Stik. I've owned many Ugly Stik rods in my day and they are durable and will get the job done. You don't get a whole lot of sensitivity from them, but they are tough as nails. This is absolutely what I would recommend to any new angler that wants a good rod but doesn't want to spend a ton of money. The Ugly Stik Inshore Select is also a good upgrade over the stock model. The $20 increase in price comes with cork handles (is it just me or does everyone else also hate EVA foam grips?), a higher graphite content for a more sensitive rod, and one piece stainless steel eyelet guides so you won't have any issue with the eyelet ring popping out or with saltwater corrosion.


Redbone Inshore  – Check the current price on Amazon

Redbone rods are named for the biggest celebrity flats fishing tournament, are designed by charter captains in Islamorada, and a part of the proceeds go to help research Cystic Fibrosis. What's not to love about that? These rods have become quite popular recently and they are such a good value at a price point of just under $100. They were manufactured by Hurricane, but have just recently become their own company. The inshore rods are made in a variety of lengths from 6'6" to 8′ which lets you find the rod that feels right for you. The Redbone rod is well built with a cork handle grip, Fuji graphite reel seat, Fuji new concept guides, and an IM7 blank-through-handle construction. It is also balanced quite well and has a nice sensitivity to it. The rod also has a limited lifetime warranty if you register it, which is quite rare for a sub $100 rod, so take that warranty and run with it.


Wright & McGill Blair Wiggins Flats Blue S-Curve Inshore – Check the current price on Amazon
This has got to be the longest name for a rod ever, but it doesn't take away from this rod in the slightest. The rod is designed with a split handle design for the most sensitivity as well as rubber cork grips, stainless steel guides with zirconium inserts, and an S-Curve technology carbon nanotube blank. S-Curve uses a cushion break, crack resistant layer, reinforced layer, an tensile layer combined to create a stronger and lighter rod. The water camo pattern is a great confidence booster for any fisherman that believes the fish will see their rod, however personally I don't think any inshore fish is going to care about a gray rod vs a water camo rod. They're more likely to be spooked by movement and noise if they're already that close. There are a few reports that the rod tip can be prone to breakage but I have never experienced this.


Penn Battalion Inshore – Check the current price on Amazon
Penn is the old reliable fishing brand. They make good rods and reels correctly every time. The Battalion rod, one of their flagship inshore rods, features a premium grade split cork grip, Fuji skeleton reel seat, stainless steel guides with Fuji aluminum oxide inserts, and a 100% graphite blank. The aluminum oxide inserts are harder than normal inserts which makes it a great choice for fishing with braided line. The rod has nice subtle graphics and is a solid performer with a light weight and nicely balanced feel. I would also mention that comparatively the Penn inshore rods seem to have more backbone than any others in the same rating class. They will haul fish out from docks and move them off of an oyster bed quickly. This would be my choice for a rod when you need to really control and work a fish.
Best Inshore Rods
$100 to $150


Shimano Teramar Southeast Inshore – Check the current price on Amazon
This is the working man's rod. They should have named this the Shimano Blue Collar, although I don't think that rolls off the tongue quite as nicely as Shimano Teramar, which actually means earth and sea. The rod offers a monumental amount of bang for your buck, and I would buy this all day long. The breakdown is a solid grade A full handle cork grip, Fuji reel seat, Fui Alconite guides, and TC4 construction. In case you aren't familiar with TC4, and who would be, it's a construction process where fiberglass is wrapped over graphite in four layers – graphite, fiberglass, graphite, fiberglass, to build the blank. This results in a rod that is strong, durable, and has a very nice flex distribution. Basically you get the nice flex of a fiberglass rod with the sensitivity and thin diameter of a graphite rod, and it is consistently repeatable vs graphite blanks which can all vary batch to batch. The construction definitely stands out when fishing with the Teramar. The rod feels like a normal sensitive inshore rod while casting and retrieving, but when you get a fish on it has this beautiful bend that extends through the rod yet it feels like you couldn't break it if you tried. It just loads up so well. The Teramar was designed for Southeast flats fishing whether it be redfish, trout, snook, or tarpon. If I were to pick a go to size for this rod it would be the 7'0" Medium. It gives you the right amount of length for casting and enough power to reel the fish without being too heavy or stiff. You won't be disappointed if you end up with this rod.


St. Croix Mojo Inshore – Check the current price on Amazon
The St Croix Mojo Inshore is one of the cheapest, or shall I say least expensive as nothing from St. Croix is cheap in price or quality, offerings from the company for an inshore rod. It has made a name for itself and in my book is equally as iconic as the Shimano Teramar. It touts specs such as a split grip premium grade cork handle, Fuji DPS reel seat with black hoods, 316 stainless steel Batson Forecast guides with aluminum oxide inserts, and a proprietary mid-modulus graphite fiber resin blank. The rod feels strong in your hands and it has a good solid backbone to it that you can call on if needed when reeling in fish. Pair this up with some 20lb braid and head out to the flats and you have a redfish slayer on your hands. My only complaint with this rod is that it is purple…c'mon, purple? Because of that this has become my wife's main rod, but that does not make it any less of a performer. There are several other St Croix rods on this list, but the Mojo Inshore will get you where you want to go for a great price.


13 Fishing Omen Green – Check the current price on Amazon
13 Fishing is a newer company that just started churning out rods in the last five or so years and has done a great job of diversifying their rod offerings. They have been focused on freshwater bass rods, but the Omen Green is their push into the saltwater territory. It is developed specifically for inshore fishing and is built with a 30 ton poly vector graphite blank, hand selected full grip 3A Portuguese cork handle, 316 stainless steel Alps guides with zirconia inserts, and a snag-less hook keeper. The 30 ton graphite blank makes this rod very light and sensitive but not so much that it becomes fragile. The rod is powerful, beautifully designed, and I especially like the plain flat black of the blank paired with the green thread around the guides. There are quite a few offerings in size and weight ranging from a 6'8" to a 7'7" and ML to H so you can handle any inshore fish. I have also heard numerous reports, as well as have firsthand knowledge, that the customer service from 13 Fishing is the best, period. That goes a long way in the fishing community where guys will keep gear for years and years and only buy from brands they feel treat them right.
Best Inshore Rods
$150 to $200


St. Croix Tidemaster Inshore – Check the current price on Amazon
Tidemaster is an awesome name for an equally as awesome rod. The graphics feature a deep green rod with metallic green threaded wrapping around the guides and it's built to handle anything you could encounter in the tidal waters. This rod boasts a full grip premium grade cork handle, Fuji DPS reel seat with brushed silver hoods, 316 stainless steel guides with Batson Forecast aluminum oxide guides, and a SCII graphite blank finished with two coats of Flex Coat. I've fished with the Medium-Heavy power of this rod and it is no joke. It has beefed up eyelets and an incredibly stout blank that I don't hesitate to use when targeting large tarpon. I am a St Croix fan and they make very high quality rods that have yet to fail or break on me. The Tidemaster is my go to choice when recommending a higher priced quality inshore rod. It gets you a lot of quality for under $200 and you can pair it with a Shimano Stradic FK for a killer inshore setup that will be up for the challenge of pulling your next snook away from the mangroves.


TFO Tactical Series Inshore – Check the current price on Amazon
TFO is a brand that that cranks out some great rods for more affordable prices than some others. They have Gary Loomis on as a consultant in designing rods as well as Lefty Kreh, so you know they will create some good stuff. I'm not sure how they get the prices into the reasonable range, maybe less corporate greed? Regardless, the TFO Tactical Inshore spinning rod is a great choice for stalking redfish or casting to mangrove covered snook. They are sensitive and have a shorter butt than normal which is great for kayak fishing. The design is built with a cork grip, oversized reel seat, Fuji guides with alconite inserts, and a vibrant aqua-blue rod blank. The rod blank doesn't have much information, but it is a quality build.


G. Loomis E6X Inshore – Check the current price on Amazon
This is one of the most affordable G. Loomis inshore rods available and when you pick it up it just feels so good in your hand. The rod uses multi-taper technology which is awesome paired with the crisp E6X blank. It creates a incredibly strong and incredibly light rod. To be honest I felt like I was going to break the rod and needed to be especially gentle the first few times I used it, however once I hooked into a solid spotted trout I realized that was ridiculous and this rod could handle quite a bit. The rod is built with a full cork handle, a Fuji reel seat, and Fuji aluminum oxide inserts. One cool thing about G. Loomis rods is that you can go to their website and each rod length, power, and action has a breakdown of what the rod is best suited for.
Example: "When you need a little more power to fish slightly larger baits, this 7-foot casting rod will not only allow you to use a little heavier line, but it will handle larger fish and keep you out of trouble in cover. It features a medium-fast action with powerful butt-section, but is still light enough tip for accurate casting. Whether you're fishing for snook, bonefish, small snappers, schoolie stripers or bluefish, with live bait under a popping cork or soft plastics, this rod will handle the challenge. It fishes monofilament up to 14-pound test and will handles lures or baits up to 5/8 ounces."
Best Inshore Rods
Over $200


G. Loomis Greenwater – Check the current price on Amazon
The Greenwater rod is a very popular choice for inshore fishing. It is a super light and super sensitive rod that can launch a free-lined shrimp with ease due to the upper half being a lot softer than most other rods. I have yet to see a negative review online regarding this rod and everyone who picks it up loves fishing with it. The rod loads so well and can really whip some light bait a good distance, but it will still give you tons of power when you need to land a solid bull red. The rod is built with an awesome flat green blank with black and gold accents that uses fiber blend technology. It also boasts a premium cork handle, Fuji graphite reel seat, and Fuji chrome guides with alconite inserts. This is the rod I pick when using light live bait or a weightless plastic for inshore fishing. It is such a good looking and high quality rod and you shouldn't be without this while stalking the flats.


St. Croix Avid Series Inshore – Check the current price on Amazon
St. Croix offers so many rods that are a huge bang for the buck, and the Avid Inshore is really one of the best you can get. The Avid was redesigned in 2015 and is a high end inshore rod that is attainable just before their rods jump up above $400. This rod is amazing and it is built with very high end materials such as a super grade full cork handle, Fuji DPS reel seat with gunsmoke hoods, Kigan Master Hand Zero Tangle solid titanium guides with aluminum oxide rings, and a high modulus graphite SCIII rod blank. This rod also comes with a 15 year transferable warranty, which is pretty hard to beat. It is clear this rod is specifically designed for inshore saltwater anglers.



G. Loomis Pro Green – Check the current price on Amazon
The Pro Green is another inshore offering from G Loomis that is often compared to the Greenwater and there is a lot of confusion about the difference between the two. The difference is that the Pro Green has a higher graphite content and is a lighter and stiffer blank. This makes it more sensitive than the Greenwater and better tuned for fishing lures like plastics, topwater poppers, and light jigs. The Greenwater and the Pro Green are both outstanding rods and they are incredibly well designed for different purposes. Personally I would chose the Greenwater rod since that's more in line with the type of inshore fishing I do, however the Pro Green is perfect for lures and situations where you need extra sensitivity. The Pro Green is designed with cork grips and a graphite reel seat. Other than that G. Loomis is always a bit mysterious about the actual rod materials since we'd probably be less likely to pay as much if we knew those details. However, all in all it is a great rod!
Pro Green = artificial lures
Greenwater = live bait and light plastics


Edge ISR –  Check Price
The Edge ISR is a brand new inshore rod that just came on the market. Gary Loomis, the most brilliant rod designer ever, just started a new company called Edge Rods that is launching a new inshore line of fishing rods. They make some top tier fishing rods and focus on sensitivity and feel. That's why the blanks are naked graphite and the grip is a custom carbon fiber braid. While $400 is a hefty price tag for even the most affluent anglers, you certainly are getting a prestigious lineage and quality product here and it feels so good in your hand. The rod blanks are made in the USA and are hand-sanded to avoid sanding into the fibers which would create a weak spot. They also have stainless steel Fuji K guides with SiC inserts and a proprietary lock nut and reel seat for superior reel retention and vibration transmission through the rod. This is not a sit and soak rod. That would be like owning a Ferrari and driving 15mph. Instead this is the rod to throw lures, feel the bottom, and feel the fish on your hook before it has even tasted your bait. They are all about the action. Also, how awesome would this be paired with a Shimano Stradic CI4 or Sustain?
Overall
When inshore fishing you don't necessarily need the sensitivity in a rod that you would for bass fishing. What you do need is a rod that has backbone when you want it, guides that won't rust or break, and a quality handle that will withstand the elements. Once you go over a certain price point you'll find it quickly becomes a situation of diminishing returns on the rods. A $150 rod is probably about 95% as good as one that costs $400, so find that sweet spot that works best for your budget and upgrade some of your gear. You'll be glad you did.
What is the Best Inshore Spinning Rod?

Loading ...