Kistler Series 1 Spinning Reel
https://www.bassgrab.com/wp-content/uploads/kistler-series-1-reel-1200x675.jpg
1080
608
BassGrab
BassGrab
https://www.bassgrab.com/wp-content/uploads/kistler-series-1-reel-1200x675.jpg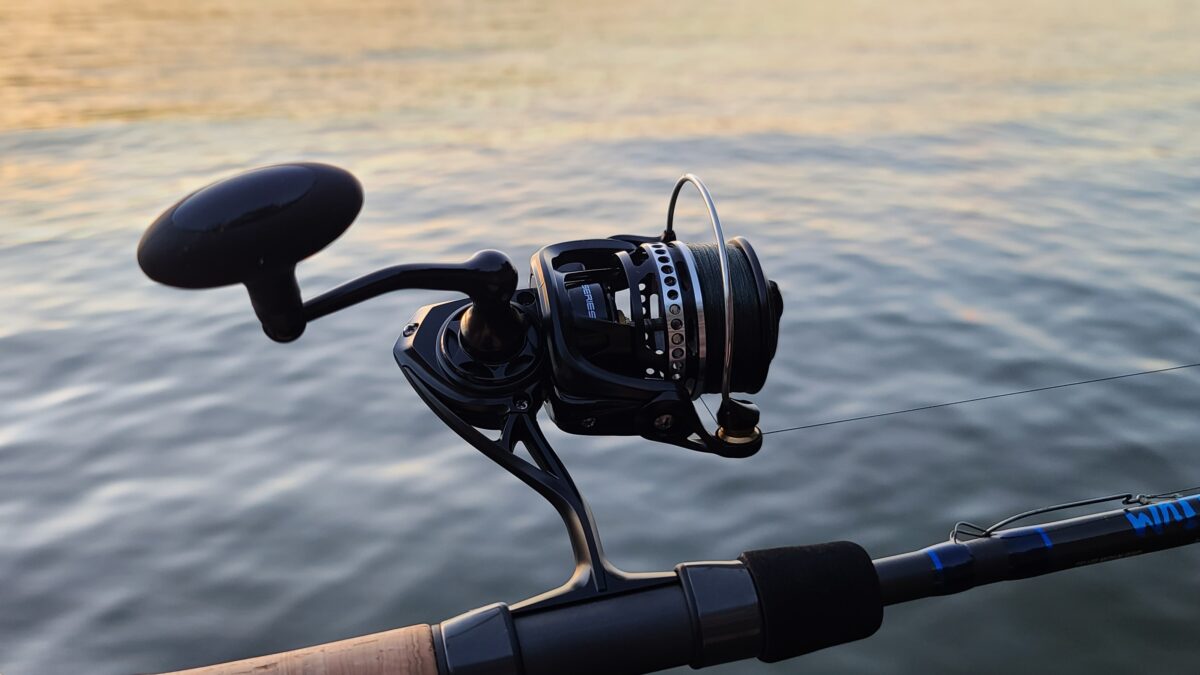 Kistler Series 1 Spinning Reel
Product: Kistler Series 1 Spinning Reel
Model: 2000
Manufacturer: Kistler
Price: $150
Sent from Kistler
Kistler rods are a classic American built quality product, so when we realized they now have a spinning reel in production we knew we had to test it out! The company focuses on faith, family, excellence, and respect which filters down into their products. They also donate to conservation efforts. We also really like that Kistler is a family owned and independent company that puts their own name on their products and is not a part of the Jarden/Pure Fishing monopoly.
Initial Impressions
When you unbox a spinning reel what is the first thing you do? There is only one right answer. You grab the reel in one hand and crank that handle with the other hand giving it a windup that could rival most professional softball pitchers, and you let that bad boy spin. Of course this is purely part of a strict testing procedure so you can see how smooth and balanced the retrieve is and how long it will spin.
Let me tell you, this is a balanced reel and it's got some spin to it.
The very next part of the reel that I noticed was the handle. It is that exact size and shape that I look for in any spinning reel. The rubber oval shaped grip is a egg handle and is just the right size to offer a solid grip for leverage against larger fish, but not large enough to unbalance the reel or feel clunky. I personally own a lot of spinning reels and use them for inshore fishing quite often, and I've gone searching for different aftermarket handles for my reels to be able to have an oversized egg shaped handle just like this one that is factory included.
So I've checked out the spin and the handle, next up is the drag. Does it have the very pleasing audible click? Check. Then I check out the drag knob and remove the spool. Does it come pre lubed? I would say yes, but not an overwhelming amount – I typically like a bit more grease and oil in my reels, especially when I'm in a saltwater environment fishing a few inches above the water in a kayak.
Overall this reel makes a great initial impression and the stealth black colors make it a reel that can be paired with almost any rod. But how does it test on the water?
Real World Use
Fishing with this reel was a smooth experience overall. It has a lot of power in a tiny frame and it casts very long and retrieves and lays down line smoothly and evenly. The reel drag performed great pulling in a slot sized flounder and I was able to really crank down the drag to pull it away from oyster covered dock posts. The drag pulled perfectly the entire time with very even pressure.
The one area I ran into a few problems with the reel was with the line getting up under the spool and wrapping around the gear. This happened twice over the course of the fishing trip and on this reel only. It is likely because the spool is a bit more open and there is a gap where the line can go up under the reel which can be an issue on a windy kayak trip.
The reel rinses off very easily and the open spool helps greatly to rinse hard to reach areas. It is also easy to apply grease and oil to keep it running smoothly.
Features and Design
The Kistler Series 1 Spinning reel has a lot of great features in the design which make it a great reel. First being the handle which is a good sized oval egg grip. This is such a nice desirable feature even on a small reel. I personally own a lot of spinning reels and use them for inshore fishing quite often, and I've gone searching for different aftermarket handles for my reels to be able to have an oversized egg shaped handle. The torque and leverage you can apply to a fish with this style of handle just can't be overstated.
The next part of the reel I really love is the stealthy blackout design of the reel, which is right up my alley. It is a classic style and will pair well with any rod you match it up to. Definitely no crazy neon green or Rasta colors like what you see when you watch the Pinwheel on Wicked Tuna.
Another nice added feature that is often overlooked is in the spool. There is a cross hatched pattern in there to keep your first few wraps of line in place when spooling up. Not a necessary feature but quite nice to have included if you've ever struggled with keeping your knot from spinning around while spooling a new reel.
The Kistler marketing comes in hot on this reel with a triple S – Strong, Smooth, and Silky. I have no reason to doubt that this reel is strong but don't truly have a good way to test that. Any quality reel will have a good aluminum or similar construction and handle fish well. I think the only reel I've used that I've felt has not been strong us a cheap surf fishing combo on vacation that wobbled horribly at the reel stem/foot when I hooked up with a shark and it started pulling drag. As far as the silky smooth retrieve I can attest that this is accurate and the reel does feel very well balanced and smooth for line retrieval.
Some of the more reputable specs on this reel are the single piece aluminum body and gear box, aluminum arm, oversized rubber knob, brass line carrier, and stainless steel bail wire. It also has a an aluminum spool with gnarled texture pattern designed specifically to prevent all braid line type slippage issues, however I still did struggle a bit with getting the line to bite initially for the first few wraps. Additionally, the reel utilizes a stainless steel main shaft and internal components to provide increased corrosion resistance which is very helpful for saltwater environments.
| | |
| --- | --- |
| Retrieve | Left/Right |
| Size | 2000 |
| Gear Ratio | 6.2:1 |
| Model Number | KS1-SP2062 |
| Retrieve | Left or Right Hand |
| Size | 2000 |
| Gear Ratio | 6.2 |
| Retrieve Rate | 31 inches per turn |
| Max Drag | 13 lbs |
| Ball Bearings | 6 (5 BB + 1 BB) Stainless Steel |
| Line Capacity | 6/200 8/160 10/120 |
| Warranty | One Year |
Price and Application
The price of the Kistler Series 1 reel sits quite well with me. A price between $100 and $200 is quite standard for a quality spinning reel and while you can get reels for less, it wouldn't be in the same category as this Kistler reel. I would say that this reel lives in the same area as the Shimano Stradic, Lew's Inshore, and Penn Conflict reels.
It is perfectly suited for inshore fishing, bass fishing, and working cranks due to it's medium ratio 6.2:1 retrieve that provides both torque and speed. The reel size of 2000 is also the money spot for a light reel that will work very well for this type of fishing and not cause casting fatigue. It holds plenty of line for all but the strongest inshore fish.
Pros and Cons
Pros
Price point is great for the reel quality
Blackout design is classic
Large oval egg handle is perfect for a 2000 sized reel
Drag pressure is even and strong
Retrieve balance is dialed in and feels great with the Series1 reel
6.2 to 1 ratio is right on the money for a medium speed retrieve for cranks, spinners, and extra torque
Cons
Only one reel size option currently available
Line wrap can happen up under the spool into the gear
Made in Korea, would prefer USA however most reels are made overseas
Could use additional factory grease and oil
Saltwater use is not recommended on the website
Overall
A lot of the appeal of this Kistler Series 1 spinning reel is that it is created by a company that already has a reputation for creating quality products. So the question is, should you buy it? I would answer this with a resounding yes. It is a high quality reel and with the attention to detail in the design I don't have anything negative to say about it other than the spool line wrap which can happen with a lot of reels on windy days. If I come across longevity issues while I'm using it longer term I will come back and update this, however the reel is solid and well worth the price.
Heath Anderson
Heath lives in North Carolina and has been an avid fisherman and all around outdoorsman for the past three decades. In addition to enjoying the outdoors, Heath has been active in the online fishing industry since 2010, teaching and sharing reviews of fishing products on BassGrab.com to help anglers catch more and look good while doing it.
All stories by: Heath Anderson