Yeti Tundra 45 Cooler
https://www.bassgrab.com/wp-content/uploads/2016-06-04-10.20.13-1024x576.jpg
1024
576
BassGrab
BassGrab
https://www.bassgrab.com/wp-content/uploads/2016-06-04-10.20.13-1024x576.jpg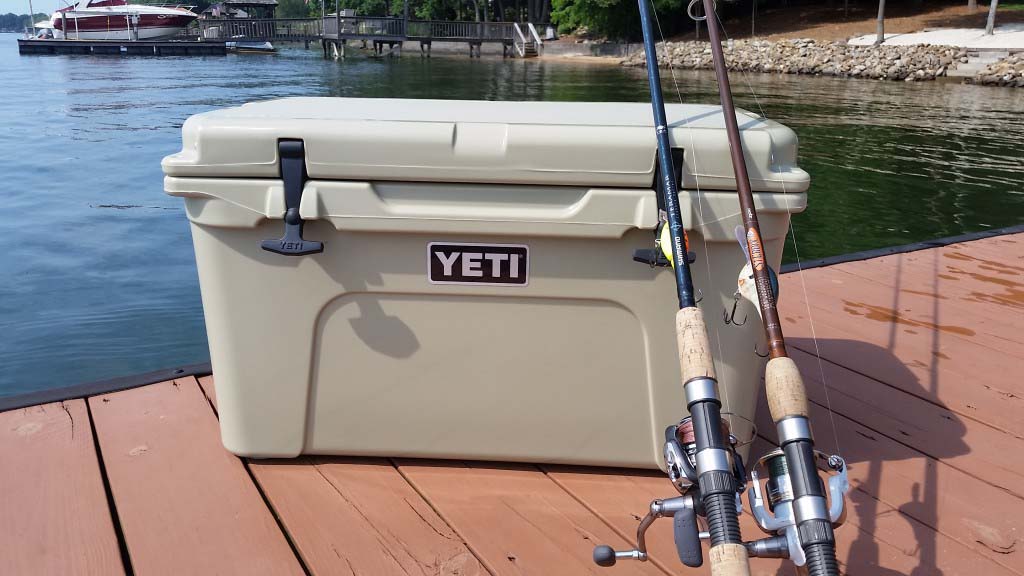 Yeti Tundra 45 Cooler
Product: Yeti Cooler
Model: Tundra 45
Manufacturer: YETI
Price: Check the current price on Amazon

Sent from Yeti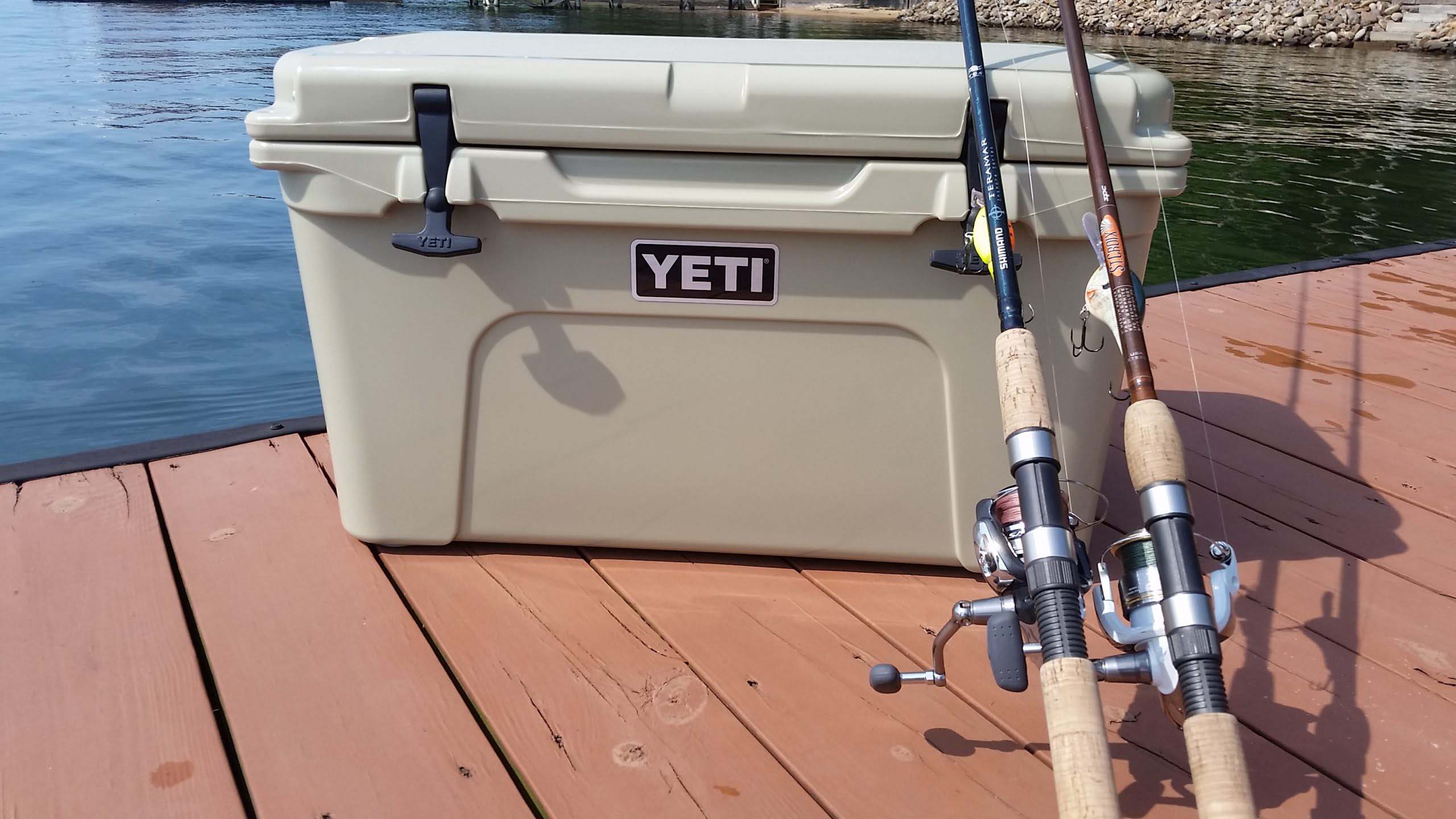 First Impressions
The first thing that comes to mind when you see a Yeti is just how thick and solid it looks. It seems overkill for a cooler, and it is, but then again most coolers only keep ice for about a day. I've had the opportunity over the last several weeks to review Yeti's most popular cooler, the Tundra 45. It is the perfect size for storage and portability and it really just is an awesome all around cooler. It also does such a good job of keeping ice I feel like Yeti should adopt Ice, Ice, Baby as their theme song. I'm sure you've heard all the stories about how ice lasts for days and that is absolutely true. I used the Yeti while on a houseboat for five days where the temperature was consistently in the mid 90's, and it did an awesome job keeping the ice solid and the beer cold. It wasn't until the fifth day that the ice was completely melted, but the water was still cold enough to be painful if you kept your hand in it for too long.

Yeti Uses
Huntin', fishin', and lovin' every day….okay that's actually a Luke Bryan song, but it can be used for all those things. In all seriousness there are unlimited uses for a Yeti cooler that don't just stop at hunting and fishing. I've used this Yeti for tailgating, camping, a day at the lake, as a step stool, and as a seat. It really does excel when you're fishing however. It keeps everything very cold and it is incredibly durable. You can keep your bait, beer, lunch, and fish limit in the cooler and you know that it will all stay cold.
All Yeti Tundra coolers are backed by a 5-year limited warranty, that being said I highly doubt you will have to use it since this cooler is bear proof, however it is there if you need it. The warranty, like almost all warranties, only covers defects in material and workmanship. So if you do a burnout with a dirt bike on the lid and melt a groove into it (yes this is a real thing, see the picture below) then Yeti will not and should not have to cover it. However, I have heard that Yeti is very accommodating with their warranty and if there is an issue with the cooler that is not your fault and you are the original owner then you should be good to go.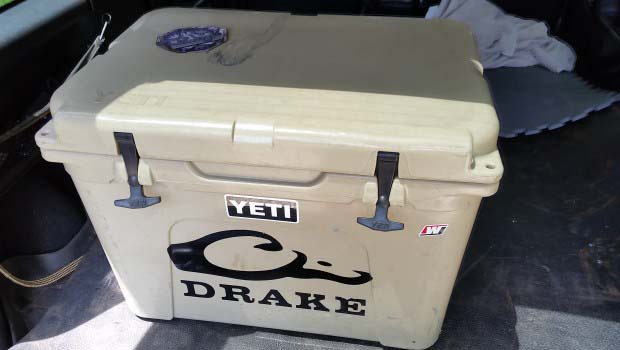 Used Yeti 50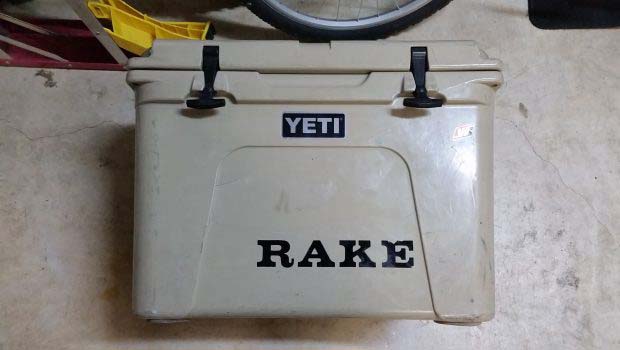 I'm really passionate about Rakes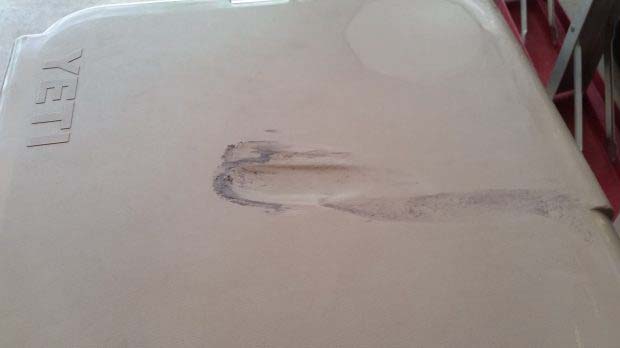 Used Yeti 50 with a dirt bike burnout mark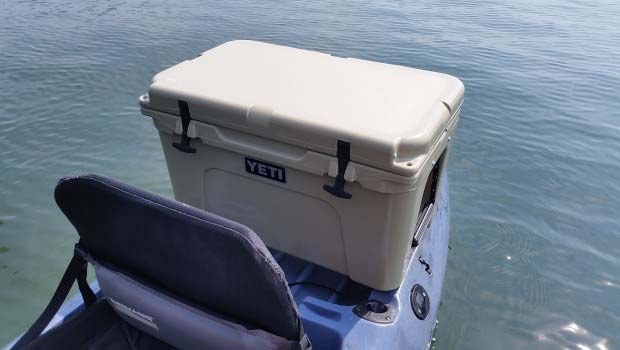 Yeti 45, stand and fish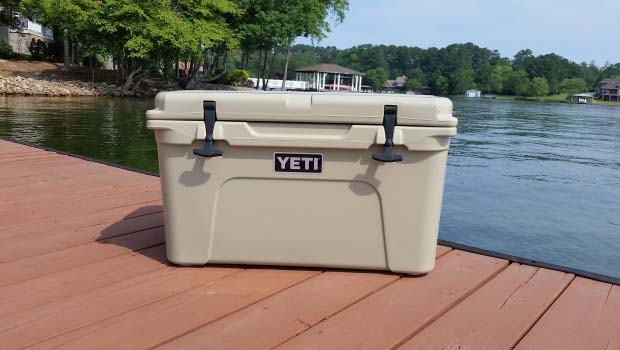 Yeti 45 getting some sun

Pros
Drain plug allows for easy water removal without opening the cooler and trying to dump water
Latches, handles, and feet are all very durable
You can lock the cooler so no one can steal your beer
You can strap down the yeti to a truck bed, boat, etc.
It is cupholder and fishing rod holder compatible
Ice retention is phenomenal
Durability – it's stupid tough
Yeti stands by their products and honors the warranty
Cons
Price, price, price
It is heavy

Final Thoughts
The cooler is awesome, just pull the trigger on it if you hunt, fish, camp, or spend days on the lake or beach. If you're using a kayak however, there are better coolers suited for fishing.

Tips to Keep Ice Longer
Pre cool the cans you put into the yeti so the ice doesn't melt trying to cool warm cans.
Fill the cooler to the very top with ice, this limits the amount of air the ice has to cool and helps it last way longer
Keep your Yeti out of direct sunlight
Limit the number of times you open the cooler, each time puts new warm air into the cooler that the ice has to cool again.
Pre cool the actual cooler itself with a bag of ice ahead of time
If you're feeling crazy get a few blocks of dry ice but be sure to leave the drain plug open to release the co2 buildup. Also your beer will freeze.
Heath Anderson
Heath lives in North Carolina and has been an avid fisherman and all around outdoorsman for the past three decades. In addition to enjoying the outdoors, Heath has been active in the online fishing industry since 2010, teaching and sharing reviews of fishing products on BassGrab.com to help anglers catch more and look good while doing it.
All stories by: Heath Anderson