Line
https://www.bassgrab.com/wp-content/uploads/Fishing-Line.jpg
444
226
BassGrab
BassGrab
https://www.bassgrab.com/wp-content/uploads/Fishing-Line.jpg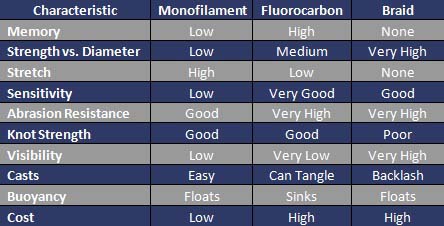 Line
Choosing the right fishing line can be difficult since it constantly changes depending on what lure or action you want, however there are only three choices: Braid, Fluorocarbon, or Monofilament. The chart below lists different characteristics of each type of line.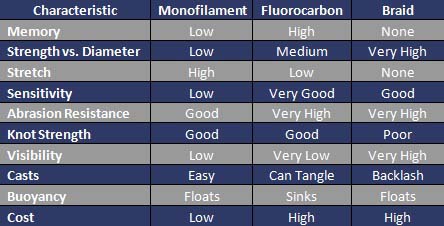 Monofilament Brands: Ande Monofilament, Berkley Trilene, Bass Pro Shops, Stren Fishing Line, Sufix, P-Line, Spiderwire
Braid Brands: PowerPro, Berkley Fireline, Spiderwire, Sufix
Fluorocarbon Brands: Berkley Vanish, P-Line, Yo-Zuri
Heath Anderson
Heath lives in North Carolina and has been an avid fisherman and all around outdoorsman for the past three decades. In addition to enjoying the outdoors, Heath has been active in the online fishing industry since 2010, teaching and sharing reviews of fishing products on BassGrab.com to help anglers catch more and look good while doing it.
All stories by: Heath Anderson