GoPro HERO Session Review
https://www.bassgrab.com/wp-content/uploads/IMG_5587-e1479242146895-1024x604.jpg
1024
604
BassGrab
BassGrab
https://www.bassgrab.com/wp-content/uploads/IMG_5587-e1479242146895-1024x604.jpg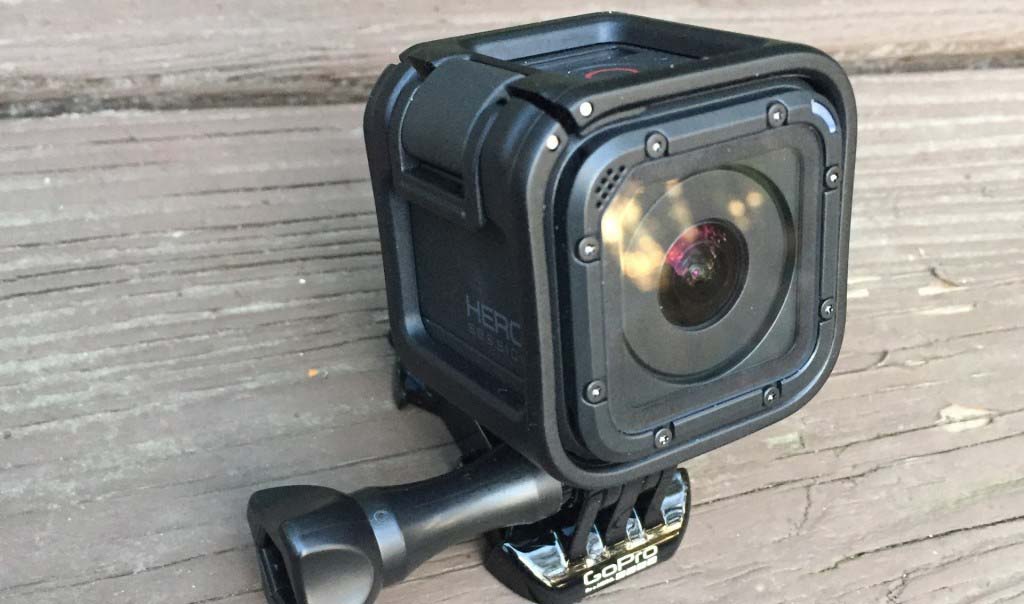 GoPro HERO Session Review
Product: GoPro HERO Session
Manufacturer: GoPro
Price: Check the current price on Amazon

Sent from GoPro
Introduction
GoPro has already made the point that their cameras are almost essential for any fisherman's day on the water. The fact that they're waterproof and durable, while still capturing quality video makes it an easy choice. However, there was a little hesitation in the GoPro community when the Hero Session was released. Could this little camera really live up to the hype of its predecessors?
First Impressions
Our first impression of the GoPro session was one you might expect. It's small. Picture a big walnut and that's what you get with the HERO Session. You can put it in the pocket of a standard  fishing shirt no problem. This isn't a bad thing. In fact, with the quality of video and pictures you can get from it, it's very impressive. With the session, you can record videos, make a time lapse, make burst photos and take single shots. With specs including 1080p ultra-wide video and 8mp photo resolution, it's easy to see the Hero Session shouldn't be taken for granted. There's a lot of power packed into its shell.
Actual Testing/Use
As an owner of the GoPro HERO 3+ Black, there was hesitation to use this camera because I was worried GoPro may have tried to outsmart themselves making it too simple. Instead, they made the GoPro Session arguably easier to operate than their old camera. Do you want to shoot a video? Just hit the power button once, then turn it off by hitting it again. Do you want to shoot a time lapse? Hold the main button down until it beeps. You're good to go. That's much easier than cycling through different settings on The Hero's and ultimately can get you the footage you want faster. Also, the single power/record button really helps to save battery life. Besides the main power/capture button on top, the Session also has an info/wireless button in the back. This button lets you cycle through picture settings, camera modes, and wi-fi connections.
Size, size, size. It's only 74g half the weight of a normal GoPro with a waterproof housing.
Ease of use. It's simple.
Built-in waterproof housing.
Quality. Matches the Hero 4 Silver and can record at 1080p 60/50/48 fps.

Cons
It's only waterproof to 10m as opposed to the previous model's 40m.
Not shock proof. For fishermen this isn't a big deal, for other users it could be an issue.
Built in battery means you can't bring backups. We found it can capture at the maximum, 2 hours of video on a single charge

New GoPro Apps: Quik and Splice
GoPro recently came out with two new camera apps to make creating and sharing your GoPro worthy moments easier with your friends. As a quick example, here are two videos made with Quik and Splice using the same five pictures. After getting to know the apps and their settings, these videos each took about three minutes to edit, save, and upload.
GoPro Splice: Using the Splice gives you the chance to create short videos right on your phone. You can create videos of your fishing trip on the trip home, and upload them directly to Facebook, YouTube or Instagram! That means you can spend more time focusing on catching more fish and less creating the perfect video of your trip. Creating movies and slideshows on your phone is easy and there is also free quality background music to choose from. One drawback is that there are limitations on editing and cropping photos. You'll have to crop them on your smartphone before putting them into Splice to make your slideshow. Overall, Splice is a great way to quickly share quality videos about your trip!
GoPro Quik: Quik seemed to be more user-friendly of the two apps. It's the same idea as Splice, uploading straight from your phone to the app to create slideshows or videos. Also, in Quik you can tell the app where to focus on each picture, which cuts out the step of cropping when you use Splice. Even though you can't make as many adjustments to timing other small video details like you can in Splice, Quik was preferred during the testing.

Overall
GoPro was smart to offer an additional option with a lower price than the original $399.99. Most fishermen don't need a camera that can withstand a fall from 30 feet, but we do need a camera that's fast and easy to use, waterproof, and affordable. At $199.99, this camera will give you everything you need and it is half the cost of the Hero5 Black.

Wesley Anderson
Wesley lives in Georgia and has spent the last 30 years hiking, camping, and fishing. Wesley has been in the fishing online industry since 2011 and loves sharing his knowledge of fishing products and fishing techniques. In order to give readers hands on knowledge, we've put hundreds on products to the test.
All stories by: Wesley Anderson