Gerber Basic Knife
https://www.bassgrab.com/wp-content/uploads/Basic-Knife-Sheath.jpg
400
225
BassGrab
BassGrab
https://www.bassgrab.com/wp-content/uploads/Basic-Knife-Sheath.jpg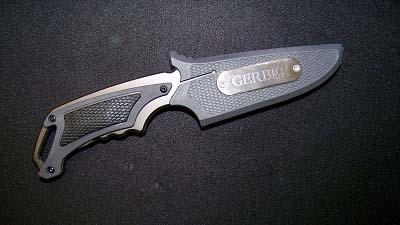 Gerber Basic Knife
Product: Gerber Basic Knife
Model: Basic
Manufacturer: Gerber
Blade: Fixed
Edge: Partially Serrated
MSRP: $55
Sent from Gerber

Introduction
The Gerber Basic knife is a multipurpose, fixed blade knife that is designed to be lightweight and compact. It boasts the typical Gerber quality that is featured in all of their products, and I am very impressed by both the sturdiness and durability that the full tang blade offers. The Gerber Basic knife looks and feels great, but our main concern is how it performs out on the water. As a general rule of thumb, a fishing knife should be compact, lightweight, easily accessible, and waterproof; so that is what we tested it for.

Features

TacHide Grip:  Handle has a trademarked grip that provides a very secure hold on the knife.

Rigid Plastic Sheath: Allows the knife to be securely locked into the sheath for easy tip up or tip down carry.

Dual Edge: Has a half serrated and half fine edge that provides for dual purpose uses.

Reversible Pocket Clip:  Provides for right or left handed carry. Great feature for those who are left handed since most knives do not account for that.

High Carbon Stainless Steel Full Tang Blade:  The blade quality and material is superb, and the full tang blade gives it unmatched strength.

Limited Lifetime Warranty:  I can provide a personal account of the quality of service, as I have owned a Gerber knife before and I have had to utilize the warranty. The process was simple, and they replaced my knife in a very reasonable amount of time.

Dimensions:  Open Length: 6.60'', Blade Length: 3.40", Closed Length: 6.80'', Weight: 3.77 oz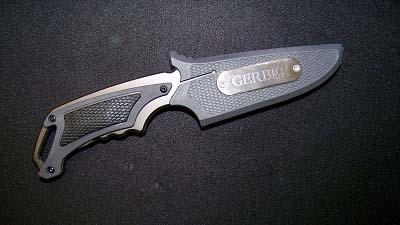 Gerber Basic Knife in Sheath

Actual Testing/Use
The Gerber Basic knife was tested for its general usefulness in a fishing environment. The knife already fulfills the requirement of being lightweight, weighing in at a low 3.77 ounces it does not weigh you down. In addition, it has a very compact and durable design, and I would not hesitate for one second to toss it into a cluttered gear bag and be assured of its safety. The main field testing that was conducted was in the area of weather durability and ease of access. When fishing it is almost always necessary to be able to access your knife with a single hand, as the other one is usually holding a knot, a rod, or a bass. One flaw of the Gerber Basic for fishing purposes is that it has a very tight and solid fit in its sheath, making it very difficult to remove with only one hand. It is a possibility that the tight fit may loosen up over time, and if this is the case then I will update the article to accommodate for that.
One area where this knife really excelled was in weather and durability testing. The Gerber trademarked TacHide handle provided excellent grip even after we dunked it in the water. I felt very confident using this knife even for rigorous cutting while it was soaked. The knife fit my hand perfectly and I was able to maintain a solid grip while using it; however I could see the short size of the handle being a bit problematic for people with large hands. The high-carbon stainless steel blade on the Gerber Basic makes for a harder blade which will last longer under prolonged abuse, and stay sharper than a normal stainless steel blade. I will provide an update on how prolonged exposure to water affects the blade within several months.
For fishing purposes the Gerber Basic works very well. It has the ability to cut monofilament, fluorocarbon, and braided lines with ease. In addition, it works great for performing basic lure modifications while on the water. The knife also was great for prying open freshwater mussel shells and cutting night crawlers. The only area that the knife did not completely excel was in cutting off braided line knots from the hook. To be fair, I have never had any knives be truly effective in this area except for razor blades.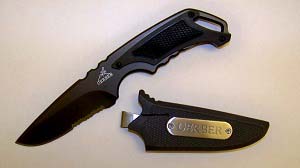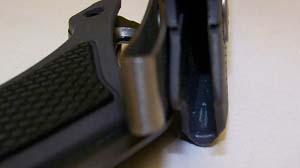 On a side note, I noticed that the end of the serrated blade nicks the sheath every time the knife is removed. It does not affect the overall performance in any way, but it seems like a small design flaw.


Pros

Very ergonomic and functionally designed grip

Performs very well as a fishing knife

TacHide grip does not slip in wet conditions

Reversible pocket clip for left or right handed carry

Full tang blade with both serrated and fine edge

Lightweight and sturdy design

Cons

Very stiff release system in the sheath, may loosen up after prolonged use

Weak pocket clip compared to force required to pull knife from the sheath

Handle may be too short for people with large hands

Overall
The Gerber Basic is an excellent choice for a portable fixed blade fishing knife, and can be found online for around $30. It offers an unbeatable price vs. value ratio, and I would actively recommend this knife to anyone looking for a quality fixed blade fishing knife. Overall, it is just a great multipurpose knife that is well suited for fishing, and I will definitely keep this in my tackle bag.
Heath Anderson
Heath lives in North Carolina and has been an avid fisherman and all around outdoorsman for the past three decades. In addition to enjoying the outdoors, Heath has been active in the online fishing industry since 2010, teaching and sharing reviews of fishing products on BassGrab.com to help anglers catch more and look good while doing it.
All stories by: Heath Anderson