Fishing with Kids
https://www.bassgrab.com/wp-content/uploads/fishing-kids-scaled-e1599152350841-467x350.jpg
467
350
BassGrab
BassGrab
https://www.bassgrab.com/wp-content/uploads/fishing-kids-scaled-e1599152350841-467x350.jpg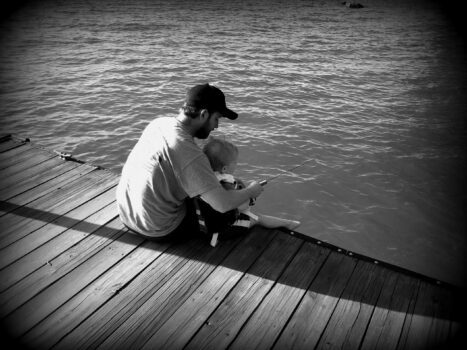 Fishing with Kids
Fishing with your kids can be fun, rewarding, frustrating, chaotic, and priceless all at the same time. It's a great way to get them outside, interacting with nature, and training as future fishermen – but knowing how to plan for the trip can be daunting. Check out the tips below on how to have a successful and fun fishing trip!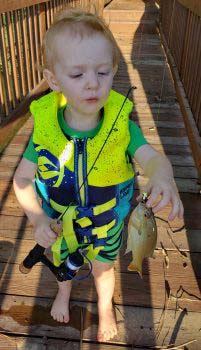 Gear
When you take your kids fishing it pays off to have appropriately sized gear. They're not targeting trophy fish and they will be very excited especially if they get to pick out their own rod and reel. Sure they could use a full sized rod and reel, but it will be much easier for them to handle something a bit smaller.
Rod and Reel
The rod and reel combo my son picked was the Zebco Dock Demon. I was more than happy with his choice because after doing some research I found it had solid reviews, was affordable for when he drops it in the lake, and it looked most like a fishing rod (ie no Snoopy or Frozen painted on it). There are a lot of other child fishing rods to chose from as well, so be sure to do your research and present options to your kids. For older kids I have heard the Shakespeare Ugly Stik Youth is also quite good.
Check Current Price on Amazon
Terminal Tackle
If you remember when you first started fishing, I'm sure you had a bobber on the line. It is exhilarating to watch that bright orange bobber disappear beneath the water when a fish strikes. As far as terminal tackle for kids I would suggest the following: small hook, bobbers, maybe a few split shots – leave it at that.
Check Current Price on Amazon
Tackle Box
There are a lot of cool options for tackle boxes. The one below is actually the same one that I used as a kid. It's really all personal preference, but keep in mind that you will probably be the one carrying it. You will also probably be the one buying all new tackle when your son forgets to latch it and picks it up by the handle dumping everything into the water.
Check Current Price on Amazon
Tips
Don't make the trip too long
You want to make sure you don't spend too much time fishing on the first outing. It depends on the age of the kids, but an hour to two hours is really as long as it takes to get a kid fishing, even if you don't catch a fish.

Use a Bobber
It provides excitement when a fish strikes, and gives kids something to visualize.
Set Realistic Expectations
This isn't about the fishing right now. It's about teaching your kids how to fish and enjoy being outside. Be prepared for mishaps along the way.
Use Live Bait
Live bait is fun for kids and it makes it easier to catch fish.
Target Smaller Fish
A first time fisherman is not going to care if they catch the biggest fish in the lake. Start off having them target an easy species that will provide excitement and keep them wanting to fish (crappie, bluegill, small catfish, small bass). Eventually you can work up to targeting trophy fish, but if we're being honest who doesn't love pulling in panfish after panfish?
Bring Snacks
For you and the kids
Have a Backup Plan
I've been fishing when the fish weren't biting in the heat of summer, so instead we dug around in the sand and collected lake clams. This was much more fun than fishing would have been that day.
Try Catching Your Own Bait
On the way to the water I turn over rocks looking for crickets and bugs, and dig through the shallows to find clams. Digging through the garden to collect worms can also be fun for kids, however, I always have some worms in the fridge as a backup in case this falls though.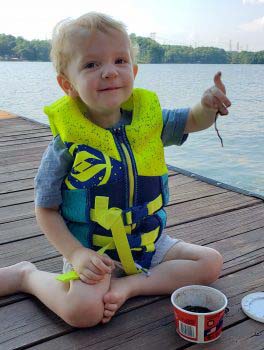 Safety
I feel like I can't in good conscience write an article about fishing with kids without adding a safety section. Kids are notoriously accident-prone and will get a hook in the hand (definitely skip the treble hooks) or fall out of the boat. Plan accordingly by making sure they are always wearing a life jacket, and keep a good pair of pliers and a first aid kit handy.
Pro Tip: Make sure the life jacket has a solid handle on the back to yank them out of the water.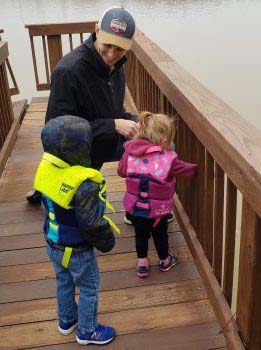 Overall
If you ask my son there are only two rules for fishing
-Always have fun
-Be very very quiet
We pretty much never follow the second rule. Fishing with your kids is all about spending time with them and teaching them something new that you enjoy. At some point they will be old enough to fish on their own, but until then be patient and teach them that fishing is fun.
Heath Anderson
Heath lives in North Carolina and has been an avid fisherman and all around outdoorsman for the past three decades. In addition to enjoying the outdoors, Heath has been active in the online fishing industry since 2010, teaching and sharing reviews of fishing products on BassGrab.com to help anglers catch more and look good while doing it.
All stories by: Heath Anderson