Bass Assassin Crawdad Assassin 4"
https://www.bassgrab.com/wp-content/uploads/crawdad-1.jpg
400
225
BassGrab
BassGrab
https://www.bassgrab.com/wp-content/uploads/crawdad-1.jpg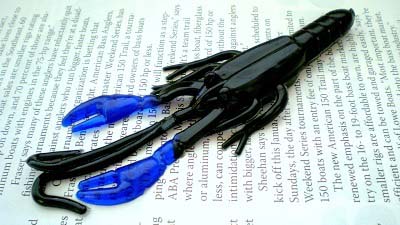 Bass Assassin Crawdad Assassin 4"
Product: Bass Assassin: Crawdad Assassin 4''
Manufacturer: Bass Assassin
MSRP: $3.49 for a pack of 10
Colors: 27 offered
Sizes: 4'', 5"
Sent from Bass Assassin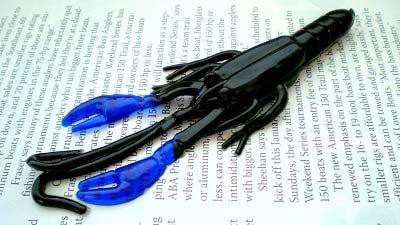 Crawdad Assassin lure by Bass Assassin
Introduction
The Crawdad Assassin lure from Bass Assassin covers the grounds for a basic crawdad shaped plastic lure. It has the standard shape and size of a plastic crawdad, with no additional impregnated salts or scents.  At first I assumed that the lure would just be like any normal plastic crawdad, however after fishing the Crawdad Assassin for a while, I found that what gave this lure an edge were the extended antennae, claws, and legs. The Crawdad creates noticeable resistance in the water, which translates into large vibrations that will attract any cruising or curious bass.
Features
The lure boasts large blue claws as well as long antennae and legs that really create a lot of vibration in the water. The reason I say this is that the lure really provides some resistance on the end of the line compared to other crawdads or plastic lures I have fished. As a point of information, I conducted all of the tests using a BassProShops Carbonlite 6'6'' medium action spinning rod and a Pflueger President XT Reel spooled with a 30lb braid.
One surprising feature of this lure is its durability. I am accustomed to using plastics that are essentially done once an energetic bass strikes; either due to the lure being torn off the hook, or due to the bass tearing it to shreds with its micro teeth. However the materials Bass Assassin used to create the Crawdad Assassin are tougher than most plastic lures and it seems to handle aggressive action very well, and stay on the hook. The re-usability combined with the low cost per pack make this lure an instant winner in my book.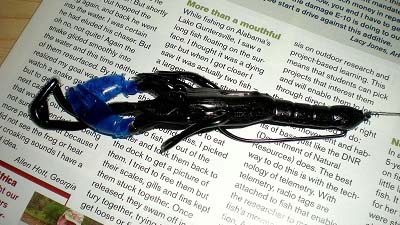 Texas rigging the Crawdad Assassin works great
Fishing
The actual fishing of the lure is solid. It has a nice weight to it that can generate some distance on casts.  The Bass Assassin website recommends using the lure for flipping and pitching which is good advice, especially when using a Texas rigged setup to avoid hooking weeds. I found that Texas rigging it works best and it fits perfectly with a size 4/0 hook.  The lure provides a lot of tactile feedback and resistance in the water, and although I've already stated it several times, the key is the vibration.  I feel this would be an excellent lure for night use because of the water movement it makes and the dark colors offered. It will really stir up the bass if you drag it slowly along the bottom and throw in the occasional twitch, then let it settle before starting again.
Pros
Moves a lot of water, creating intriguing vibrations

Great lure for night fishing, especially in the blue and black color schemes

Easy to hook and fish Texas rigged

Works very well with a #4/0 size hook

Material is durable enough for even the most energetic bass strikes
Cons
It would be nice to have an over-sized model offered, ex: 8'' or so to chase larger bass
Offering a salt impregnated version would help with retention once bass bite
Overall
I am pleased with the lure that Bass Assassin was able to create here. It has incredible durability and a wide variety of colors that can be used in a variety of conditions. I did not get to squeeze any night testing into the lure; however on my next trip it will undoubtedly be brought along. The combination of the large variety of dark colors offered by Bass Assassin and the amount of disturbance and vibration the lure creates, make this lure a key night fishing plastic that should not be overlooked.
Heath Anderson
Heath lives in North Carolina and has been an avid fisherman and all around outdoorsman for the past three decades. In addition to enjoying the outdoors, Heath has been active in the online fishing industry since 2010, teaching and sharing reviews of fishing products on BassGrab.com to help anglers catch more and look good while doing it.
All stories by: Heath Anderson