Best Ways to Store Your Kayaks in the Garage
https://www.bassgrab.com/wp-content/uploads/2016-03-17-21.40.04-scaled-e1645804199624-1200x773.jpg
1080
696
BassGrab
BassGrab
https://www.bassgrab.com/wp-content/uploads/2016-03-17-21.40.04-scaled-e1645804199624-1200x773.jpg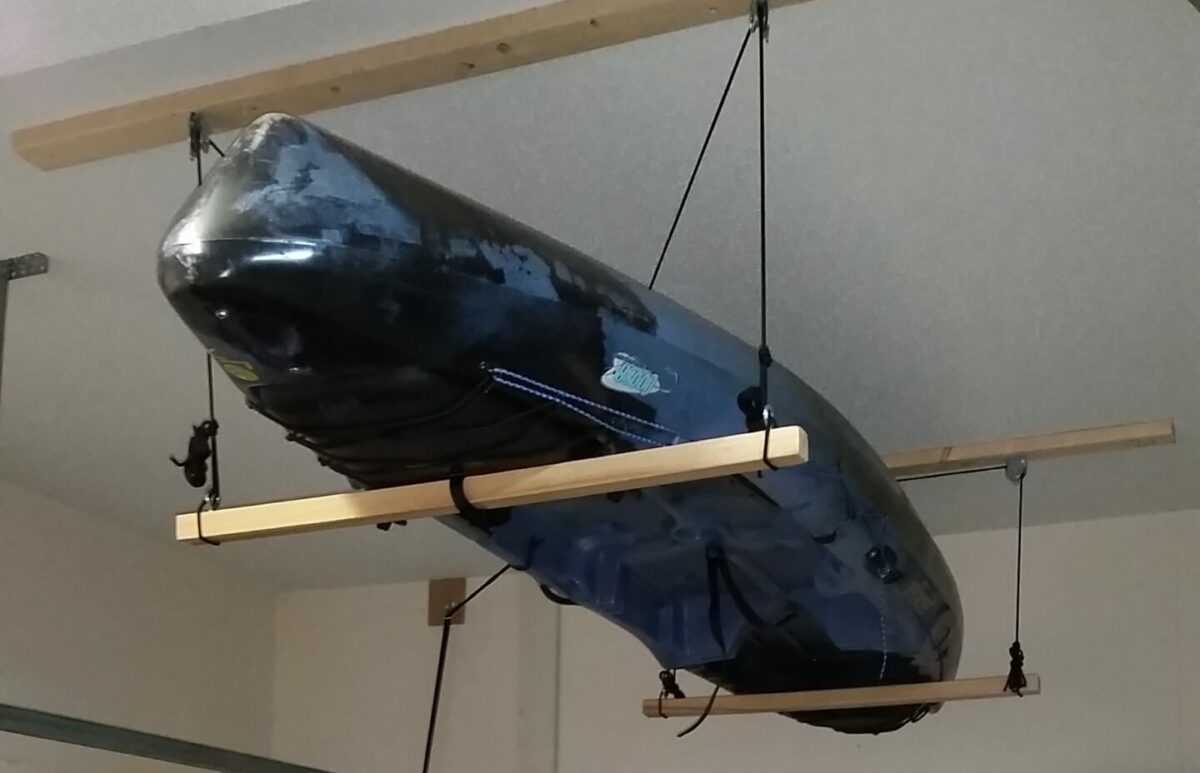 Best Ways to Store Your Kayaks in the Garage
Kayaks are one of the absolute best ways to get out on the water and start fishing at a reasonable cost. They are also the most stealthy vessels for tracking fish and offer great exercise. However, one downside to kayaks is that they can be difficult to store. Finding a space for a 12ft or longer kayak where it isn't going to be exposed to sun and other weather can be a struggle. That is why you will want to invest in a kayak garage storage solution to protect your kayak and save space.
Kayak Storage Quicklinks
Common Sources of Kayak Damage
Kayak storage needs to be decided carefully as there are definitely incorrect ways to store your boat that can damage or deform it. Kayaks are most commonly damaged by extreme temperatures, prolonged UV exposure, excessive moisture, and contact with hard surfaces. Let's break each of these down to learn more.
Extreme Temps – Extreme heat and extreme cold does damage to everything, kayaks in particular. Due to the plastic construction of kayaks the extreme heat can cause warps in the shape and extreme cold can create cracks.
UV Exposure – The sun causes a lot of damage and can cause rubber, fiberglass, and plastics to become brittle and crack if exposed for a long time.
Excessive Moisture – This one sounds funny considering that kayaks are meant for water, however they are meant to be in water and then dry out. Keeping a kayak stored under a tarp traps moisture around the boat and can cause mold and mildew issues that will affect the fabrics and finish.
Contact with Hard Surfaces – Leaving your kayak hull sitting on concrete or metal can cause the boat hull to deform which will affect your tracking in the water. Kayaks are best stored upside down or on the side across the stronger and thicker side rails.
Kayak Wall Mount Arms
Wall mount arms are a great solutions for kayak storage. Just be sure to bolt them directly into the studs so they have enough strength to hold your kayak. The arms get your kayak up off the ground and out of the way so you can still utilize your garage while storing your kayak in a protected environment.
Freestanding Kayak Rack
Freestanding kayak racks are great if you want a storage solution but can't drill into walls or you don't want it to be installed permanently. The racks can be pushed up against walls and out of the way, or you can opt for a double sided rack that can support up to four kayaks. This is a great solution and it makes it easy to store your boat.
Kayak Ceiling Pulley Mount
Getting a kayak rigged up to mount to the ceiling is the most space saving method available. Garages typically have taller ceilings and the space is unused, you just have to navigate the garage door and handle some installation. This is a great solution and works very well for a clean and out of the way spot to store your kayak. It can also double a storage area for ladders, bikes, or anything else that fits.
Upright Kayak Storage
If your kayak is short enough or your garage is tall enough then you have the option to store it standing upright on the stern. Make sure to get a rubber or foam pad to place under the end of your kayak and I would highly suggest also using an anchored wall strap like the ones below to use up top unless you have it angled into the corner. If you do have a free corner this is a very cost effective and easy storage method.
DIY Kayak Winch Storage
All of the kayak storage solutions above are excellent, however if you want to go a step further and have the skills to build a winch driven ceiling system, then I highly recommend it. I personally came up with this design for my kayaks to get them up and out of the way to use the garage. It makes use of a pulley system that is mounted to the ceiling where all four ropes are run through a single carabiner and come together at a wall mounted winch with a hand crank and auto braking to ensure the kayak won't fall from the ceiling. I came up with this because it allows the kayak to stop at any point along the way from floor to ceiling, and it's much easier than trying to hand pull the rope to hoist the kayak. Feel free to reach out with questions and check out the materials I used to build this.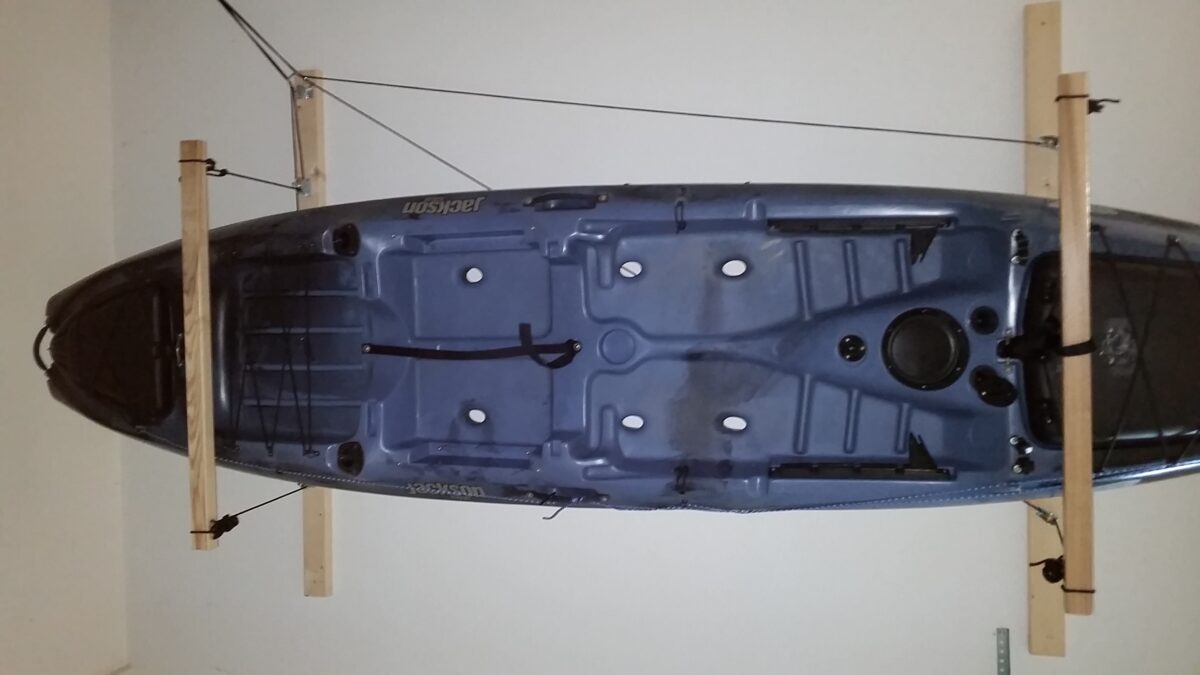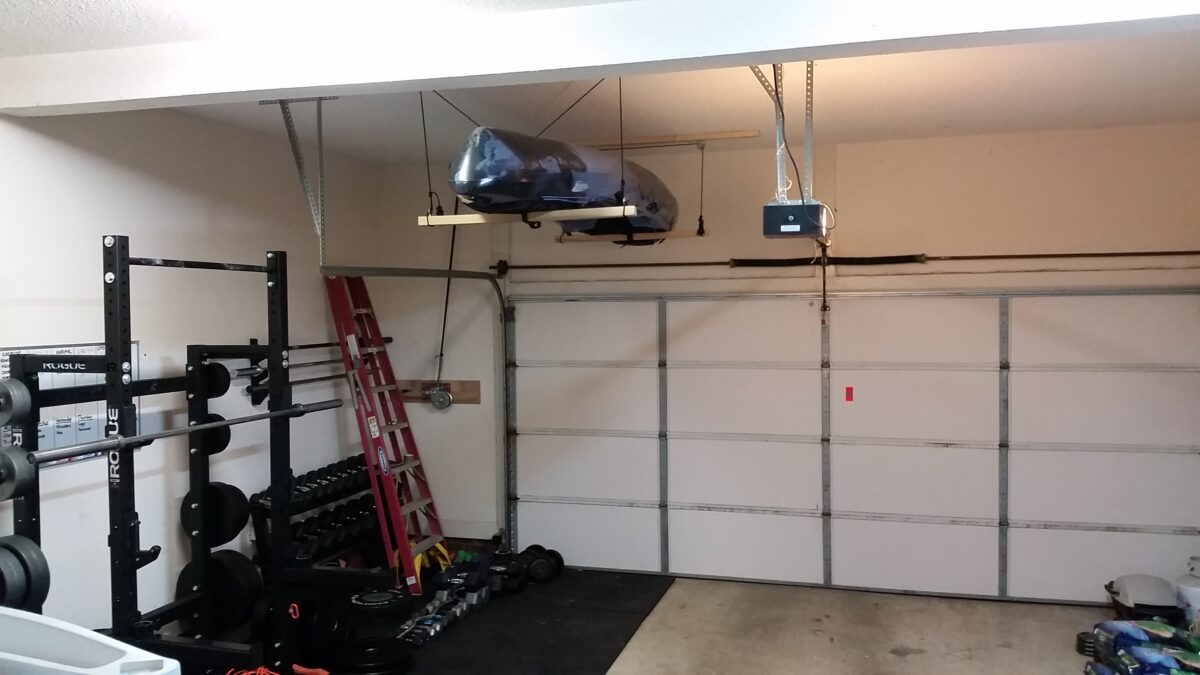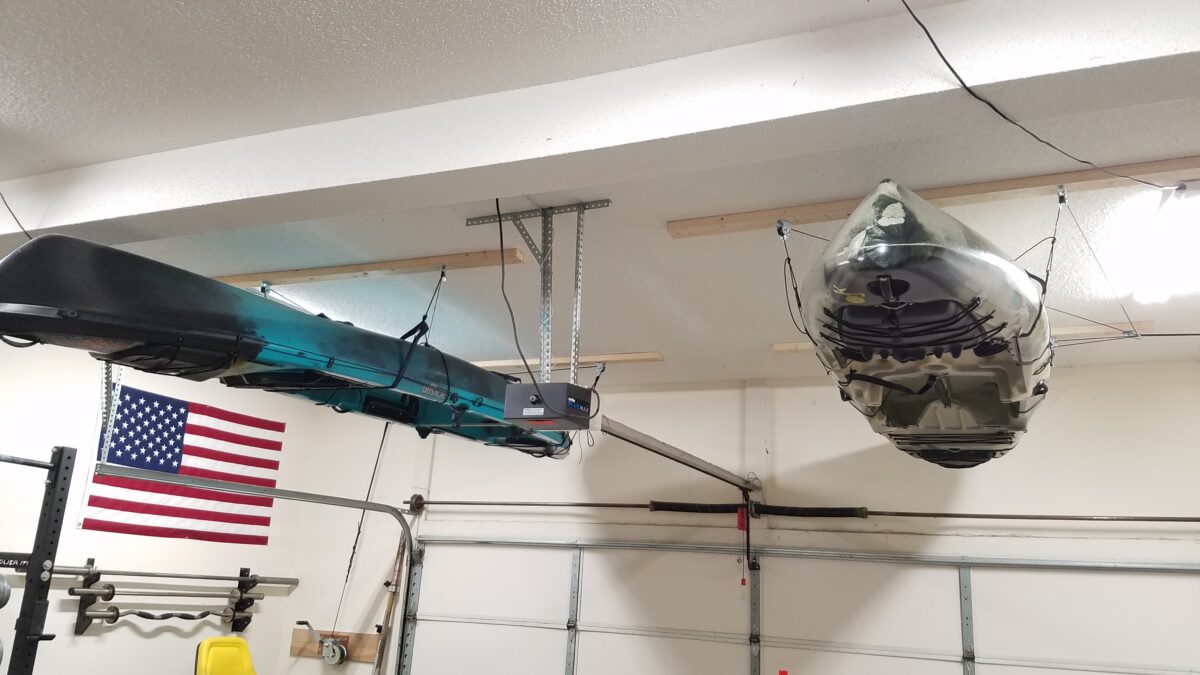 Strong and durable kayak storage
Easy to raise and lower kayak
Maximize space
Stop kayak at any point
Directly lower and raise from vehicle roof rack
Materials
A Kayak that Stores itself
Along with these amazing storage concepts and ideas, you could also consider choosing a portable kayak. This would allow you to store the kayak very easily without taking up a lot of space since they collapse and compress into a smaller, easy-to-store shape. This also helps with the transport of the kayak to and from your residence. Lastly, a portable kayak would allow you easily keep your kayak in an apartment or condo that might not have garage space.
Easy transportation
Takes up little space
No extra storage cost
Easy to access