The Best 8 Roof Racks for Kayaks
https://www.bassgrab.com/wp-content/uploads/kayakroofrack-scaled-e1646343640421-1200x678.jpg
1080
610
BassGrab
BassGrab
https://www.bassgrab.com/wp-content/uploads/kayakroofrack-scaled-e1646343640421-1200x678.jpg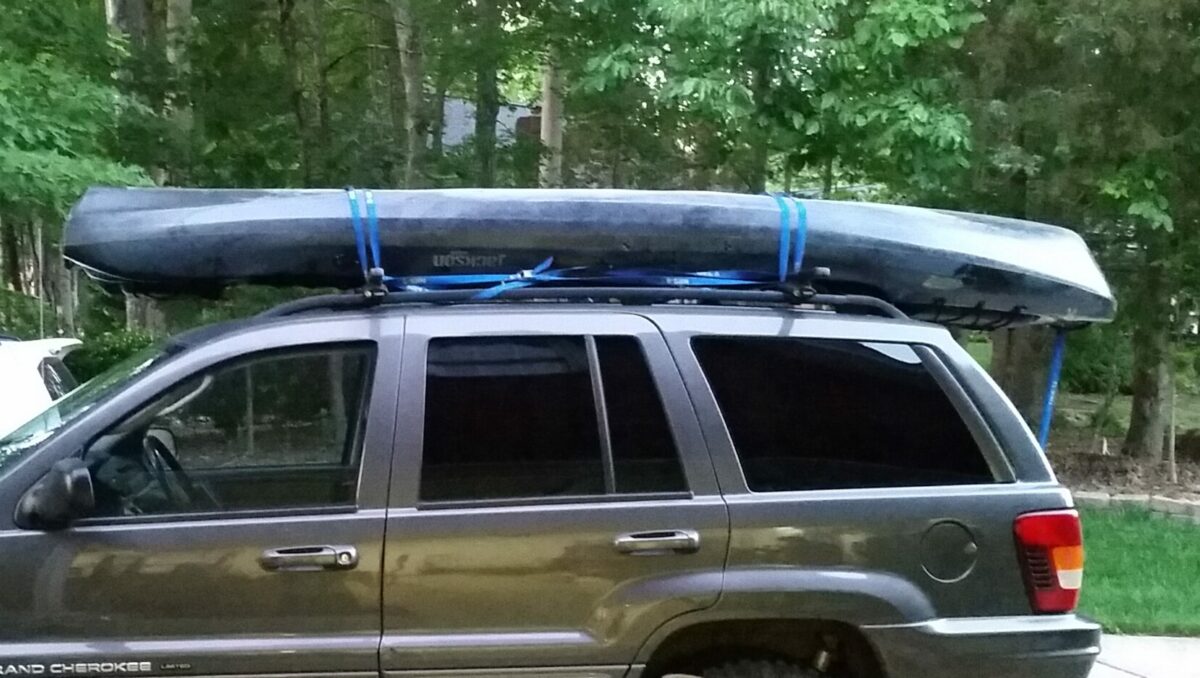 The Best 8 Roof Racks for Kayaks
Kayak transport can be just as much of a challenge as kayak storage, but don't let it prevent you from getting out on the water. There are a number of excellent kayak roof racks designed to help anyone load and unload their kayak quite easily. Most of these systems involve lifting to some degree, but there are even some very nice kayak carriers that are designed to remove that from the equation. What you're really designing is a roof rack system for your vehicle. These can be used to transport kayaks, but you swap out attachments to use your roof rack for snowboards and skis, roof tents, paddleboards, luggage toppers, bikes, and much more.
There are several important questions to answer before choosing a kayak roof rack system.
Kayak Roof Rack Quicklinks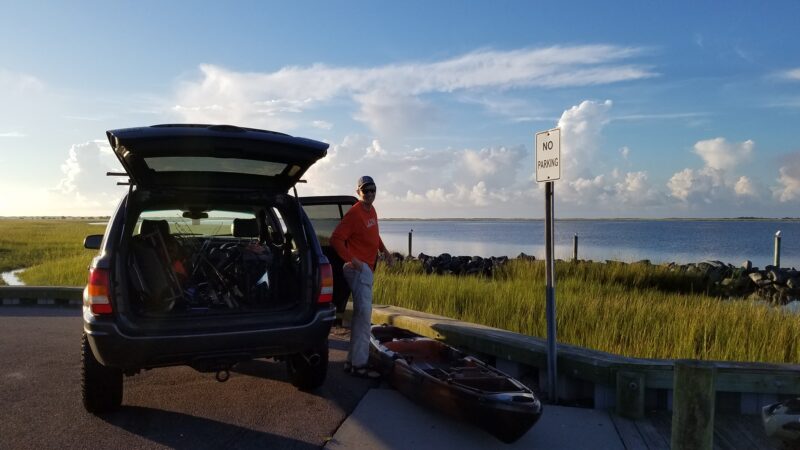 What to Consider
How many kayaks are you carrying on the roof?
One or two kayaks is the most you can feasibly carry on the roof. Three could be made to work with a wide vehicle and special setup, but it's not the best method. Rack selection depends on how many kayaks you're transporting. For two kayaks you will want to get wider crossbars, or additional saddles or cradles.
Can you lift your kayak over your head?
Physical strength plays a role in kayak roof topping just as it does in paddling. For most of these roof racks you must be able to lift your kayak over your head. Some kayaks push the scales at 75 or more lbs so start working on your overhead press. If lifting your kayak isn't an option there are assisted loading racks that can be used as well.
What roof rack fits my car?
Obvious question, you need to find a kayak rack that is compatible with your vehicle. Most manufacturers offer vehicle compatibility search for their kayak roof racks on their website. Just search and look through your options. If you have side rails factory installed on your car then almost any cross rails will work for you. Just find which towers will fit.
Kayak Roof Rack System
A kayak roof rack is really a system of parts that go together to carry a kayak on your vehicle. That system is generally composed of three parts – the third part being optional if you decide to mount your kayak upside down directly to the crossbars.
Towers – These are the bases or feet that mount directly to your car and support the cross bars. They either clamp into your gutters, strap around existing running bars, or are bolted into the pre-existing thread on the roof.
Cross Bars – These are the bars that run across the width of your vehicle to support the kayak weight. They are attached to the towers and can be round, square, or blade shaped.
Kayak Carriers – These mount directly to the cross bars and provide a more secure mount for your kayak. The types of kayak carriers are saddles, cradles, standup bars, and assisted loaders. When you have a tower and cross bars these are optional.
Types of Kayak Carriers
Horizontal Kayak Carriers
Kayaks are mounted flat and it provides the most secure mount. Great for heavier kayaks. It also is a more aerodynamic mount and provides additional support and protection for the kayak.
Cross Bars
Saddles
Load Assist
Truck Bed Extenders
Vertical Kayak Carriers
Kayaks are mounted on their sides. It is great for carrying more than one kayak. It takes up less space so you can comfortably fit multiple kayaks on the roof. It does increase wind resistance while driving and can put additional strain on the roof mounts. Best for smaller and lighter kayaks.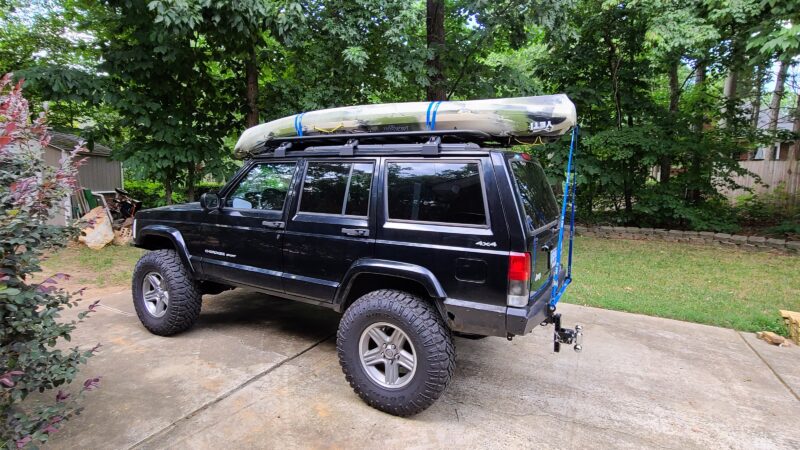 Best Load Assist Kayak Rack
Thule Hullavator Pro
The Thule Hullavator Pro is one of the best load assist kayak racks on the market. The rack is designed for people to be able to easily load a kayak on their vehicle roof by themselves. The arms swing down to the side of the vehicle to about waist height for you to load a kayak, then they swing back up using gas assisted struts to help lift the kayak weight to the roof. and secure to the top cross bars. It is a game changer if you are unable to load a kayak on your own, have back problems, or want an easier kayak loading method. This rack, like most others, is only compatible with the manufacturer crossbars. General consensus is that it is expensive but worth every penny!
Pros
Load assist and weight support
Excellent grip for secure kayak hold
Bow and stern lines included
Eight points of kayak padding
Corrosion resistant materials
Cons
Expensive
Compatible only with Thule crossbars
Load Assist Kayak Rack
Yakima Showdown Load Assist
Yakima is a wildly popular roof rack system for vehicles and they offer a load assist rack for kayaks as well. Their offering features an assisted loader that reduces about 40% of the weight required to lift the kayak to the roof. The loaders can also fold flat when not in use to reduce wind noise and drag as well.
Pros
Universal crossbar mounts
Easy load assist lift for kayaks reducing 40% of weight
Folds flat when not in use for drag and noise reduction
Cons
Expensive
Best for smaller kayaks
Cross Bar Rack
Rhino Heavy Duty Roof Bars
Rhino racks are tough products and well designed. Their cross bars are no different, they can hold a load of 220lbs which is quite heavy. Most kayaks don't push anymore than 75lbs. Always be sure to take the load capacity rating for your vehicle roof into consideration as well. Rhino also makes compatible kayak carriers that perfectly pair with these crossbars. Aluminum construction for corrosion resistance and excellent build and system from Rhino.
Pros
Heavy duty bars
Durable tower construction
Locking towers
Bare Roof Cross Bars
Malone Bare Roof Rack Bars
Installing a kayak roof rack on a bare car roof can be difficult but not impossible. The Malone system is one of the best options out there for installing cross bars without running bars to strap onto. This system straps around the roof and through the windows to mount the bars on the roof and and uses suction cups on the tower bases to provide a secure platform for the kayak to mount. Excellent choice for a vehicle that isn't compatible with other models, and quickly and easily removable.
Pros
Easy to install and remove
Secure suction cup design with straps
Strong cross bars for kayaks
Cons
Must ensure it is setup correctly
Kayak Saddles
Thule DockGrip Kayak Saddles
Kayak saddles are more or less just points to hold the kayak securely in a horizontal position. The Thule DockGrip kayak saddles are the best because they have a strong hold on the kayak sides with soft rubber grips to prevent any sliding. Pairing kayak saddles with crossbars and straps is absolutely the best and most secure way to transport a kayak on the roof and these saddles also pivot to generate the optimal hold on the sides of the kayak. Perfect to center a single kayak across your vehicle roof.
Pros
Accommodate all hull shapes
Soft rubber design to flex to kayak sides
Pivoting saddles for excellent fit
Can hold up to 80lbs
Cons
Have to remove and install each time due to noise
Folding Kayak Cradles
Yakima JayLow Folding Cradles
The Yakima JayLow kayak cradles are the classic type of kayak rack for loading up on the roof and carrying a pair of kayaks. These cradles orient kayaks tilted vertically on their sides to be able to carry multiple kayaks on the roof and the racks fold down flat when not in use which is excellent. If you've never used cradles to drive kayaks before you should know that it does significantly add to the wind resistance of your vehicle especially if you're already up fairly high. The kayaks act like a sail on a windy day and you have to make sure you're driving safely with a pair of kayaks on the roof if it's gusty. There are a variety of kayak cradles on the market, but the folding and locking features as well as lip design of the Yakima JayLow make it the best.
Pros
Folding profile makes it easy to store
Universal cross bar mounting
Carries any kayak
Adjustable upright post angle
Includes straps and tie downs
Cons
Wind resistance is high with kayaks
Must be tall to load on higher vehicles
Folding Upright Post
Thule Stacker Upright Kayak Post
Upright posts mounted to crossbars are one of the few options that could allow you to mount more than two kayaks onto one rooftop. The Thule Stacker is a great option for this because you can mount two of these to each cross bar at the front and rear to be able to standup three kayaks vertically on their sides. The Thule Stacker also folds down flat when not in use which is excellent for long term roof rack use and wind noise reduction. When using this type of system be sure you know how to strap a kayak down very well, as there isn't any room for error. Straps should be around the side attached to the rails as well as the center support. Also include bow and stern straps for safety.
Pros
Folding profile makes it easy to store
Designed to be able to strap through the post
System allows for more than two kayaks on the roof
Excellent price point
Cons
Vertical position isn't most secure
Strapdown needs to be on point
Truck Bed Rack
Yakima Overhaul HD
Truck beds are already well designed for carrying loads and work well for shorter kayaks, but with the average truck bed length just over 6 feet and the average kayak about 13 feet, you've got a bit of a problem. Truck bed racks are perfect for solving this and retain your bed storage so you can fit additional gear. The Yakima Overhaul HD is a very stout and sturdy truck bed ladder rack and is perfect for transporting kayaks. It has adjustable heights and can accommodate up to 500lbs. One downside is that the cross rails are sold separately and you need to utilize Yakima cross bars.
Pros
Holds up to 500lbs
Adjustable height from 19"-30"
Integrated tie down rings
Lock core compatible
Heavy duty base build
Cons
Expensive
Doesn't include crossbars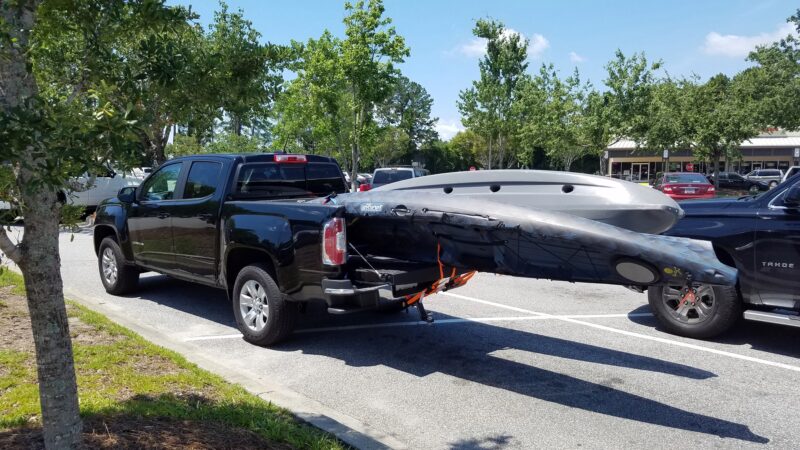 Kayak Roof Rack Install Tips
Pick a brand and stick with it to build out your roof rack system to ensure compatibility of all parts
Know what you're buying – racks are usually sold in parts so you'll buy the towers, cross bars, and kayak carriers separately
Get a cable lock and run it through your kayak scupper holes and cross rails for peace of mind
Use combination locks over keyed locks – nothing would be worse than getting to your fishing spot and forgetting your key
Invest in tower lock core inserts for your roof rack if you leave it on the car full time
Keep the towers and cross bars attached to your car, if the wind noise is an issue then get a wind fairing for your front rail.
Don't use ratchet straps to secure your kayak. They supply a firm hold, but you can easily overtighten and deform your kayak hull
NRS makes the best heavy duty kayak tie down straps on the market, I've had my same ones for 10 years.
Common Kayak Roof Rack Questions
Are kayak roof racks safe?
A properly installed kayak roof rack used as intended is perfectly safe. Just be sure to always strap down your kayak securely and check that everything is tight when traveling.
How many kayaks can you fit on your roof?
It depends on the size of your vehicle and what roof rack system you're using, however more two is typically not recommended as you risk one coming loose and you're adding a lot of weight to the top of your vehicle.
What is the easiest kayak rack to use?
The Thule Hullavator Pro is the hands down easier kayak roof rack system. Put it into the cradles, and it swings onto the roof. Another great option would be using a DIY kayak garage mount with a winch that you can raise and lower directly onto your roof in the garage.
Do you need cross bars for a kayak?
Cross bars are not required for transporting a kayak on the roof, but they will make it much easier and secure. You can use a pad and strap system on a bare car roof.
How can I transport a kayak without a roof rack?
You can use foam pads or air pads on the roof of your car with the kayak strapped down on the bow, stern, and both sides to keep it secure.
Do I need to tie down the front of the kayak?
This depends on the roof rack system you're using, however I always do because I would much rather have an extra strap to add and remove each time than risk the kayak coming free on the highway. Plan for the worst and expect the best.
How fast can you drive with a kayak on the roof?
Driving with a kayak on the roof can add wind resistance and make your vehicle a bit more prone to being blown around, however it should not impact driving within any posted speed limits as long as it is secured properly.
How do you lift a kayak by yourself?
You must have enough strength to lift your kayak over your head for this to work. Otherwise consider investing in an assisted loading kayak carrier.
-Position the kayak upside down on the ground with the bow of the kayak set against something so it cannot slide forward.
-Lift the stern of the kayak up and over your head from the back while the bow is still on the ground.
-Walk your hands forward and continue lifting until you find the balance point of the kayak and can fully lift it over your head.
-At this point you have a hand on either rail of the kayak and it is upside down above your head.
-Angle the front of the kayak onto the front roof rail and then angle the back on the back rail.
-Center the kayak on the rails and secure it for transport.
How do you install a kayak roof rack?
It depends on the manufacturer or model, however cross rails mount perpendicular to your running rails on the vehicle roof if you have them. Check out common manufacturer install guides.
Thule
Yakima
Malone
Should kayaks be transported upside down?
Sit inside kayaks should be transported upside down or with a cockpit cover to prevent them from filling with water while traveling.
Sit on top kayaks can be transported either way but you will have less wind drag if you transport them upside down.
Can I put a roof rack on my car?
Any car can be outfitted with some type of kayak roof rack. A car without any rails on top can use gutter latches or hood and trunk latches for kayak transport. A car with side rails (rails running front to back) can install any system and work well with cross bars. Manufacturers also provide a vehicle lookup for which of their products will fit your vehicle.
Yakima Roof Rack Fit
Thule Roof Rack Fit
Heath Anderson
Heath lives in North Carolina and has been an avid fisherman and all around outdoorsman for the past three decades. In addition to enjoying the outdoors, Heath has been active in the online fishing industry since 2010, teaching and sharing reviews of fishing products on BassGrab.com to help anglers catch more and look good while doing it.
All stories by: Heath Anderson